Here's what Debra Byrd, vocal coach and arranger for American Idol, had to say about some show-related topics:
LaKisha Jones: "I think she's a wonderfully humble young lady. She carries herself very well, but quietly. They're all excited. She's excited, too.
My first encounter was she has to learn to speak less. I say that to all of them. This is more singing than they will do in their entire lives. We women can be very chatty.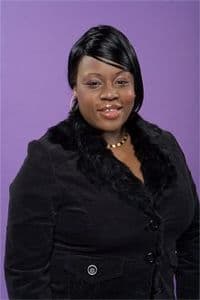 You have to learn to be on vocal silence and rest your voice, so I told her to use voice mail and text messaging. Unless it's your mom and daughter, you don't have to speak to a lot of people.
The hardest thing for her to learn is how to conserve her voice. ... Kelly Clarkson had the exact same problem. You'd be in a room full of people and I could hear Kelly yelling over people. LaKisha has that same thing. She's learning to conserve and I applaud her. She's just great. Everybody's crazy about her."
Jennifer Hudson: "I used to say to Jennifer Hudson all that time that I knew she'd be perfect for that role (Effie in Dreamgirls, for which she won an Academy Award). Everything she did was loud and big.
The word I used with her was restraint. You don't have to sing to the top of the balcony every time you sing a song. You can pull it back. That's something Jennifer Hudson had to learn. LaKisha is learning that as well."
Gina Glocksen: "She has come into her own so magnificently. I love that girl for her perseverance alone. This is her fourth time trying out for American Idol. I love that girl so much. She works hard and it pays off. That girl has a big heart."
Sanjaya Malakar: "Sanjaya won't practice in front of his mom, which drives her crazy. She knows what her son is not; she knows how he won't present himself.
He says, 'I'm OK, I'll be fine.' He's not fine. We're watching him not be fine. I feel for her. These kids are not prepared. They think they are. They are not, but they don't get it."
Matt Richenthal is the Editor in Chief of TV Fanatic. Follow him on Twitter and on Google+.