Right now on All My Children, Zach and Kendall are worried sick over their little one, Ian (born dangerously premature). But Soap Opera Digest makes a good point:
They're just the latest in a long line of Pine Valley parents whose precious offspring have faced awful health crises...
Bianca Montgomery:
While pregnant with Bianca, her daughter with Travis (Larkin Malloy), in 1988, Erica (Susan Lucci) contracted toxemia and nearly died. She delivered a healthy baby girl, but in 1990, Binks (Caroline Wilde) became ill with Reye's syndrome after ingesting some aspirin that Travis gave her. Erica, who was engaged to Jack at the time, reconciled with Travis for Bianca's sake.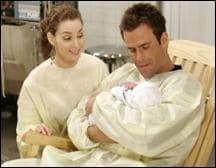 Spike Lavery
:
With mom Kendall (Alicia Minshew, pictured) in a coma in the late stages of pregnancy, things were touch-and-go for Spike, who had to be delivered via emergency C-section in 2006. He pulled through, much to Kendall and dad Ryan's (
Cameron Mathison
) relief.
Beth Martin:
Anne (Judith Bancroft) and Paul (William Mooney) were devastated when, during her 1976 pregnancy with Beth, Anne was struck with toxoplasmosis. Beth was born with severe mental retardation and tragically, in 1977, she passed away in her sleep, a victim of Sudden Infant Death Syndrome.
Leora Hayward:
In 2003, Anna (Finola Hughes) gave birth prematurely to a baby girl that she and the child's father, David, named after his late brother, Leo. Leora had a cardiac condition and Anna pushed David to allow the newborn to undergo surgery. Tragically, she didn't survive the operation.
Baby Chandler:
Liza (Marcy Walker) and her heir-obsessed husband, Adam (David Canary), looked forward to the 1997 birth of their baby, but while on a TransGlobal flight that experienced turbulence, Liza went into premature labor and delivered a stillborn child. Grief-stricken Liza became estranged from Adam when she learned that he owned the airlines and his cost-cutting measures had imperiled her flight. Their relationship improved when Liza discovered that fifth disease had actually caused her miscarriage.
Matt Richenthal is the Editor in Chief of TV Fanatic. Follow him on Twitter and on Google+.