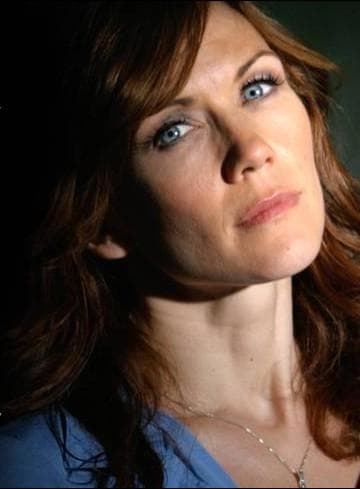 Stacy Haiduk returned to
All My Children
last week.
She recently opened up to Soap Opera Digest about her comeback. Here are highlights from the interivew:
Soap Opera Digest: Welcome back! Did you know, when you left in May, that a return might be in the offing?
Stacy Haiduk: I'll just say this: Probably in the middle of shooting [my first run], I looked at Thorsten Kaye and I said, "This is so much fun. You guys are the luckiest people on earth because you get to have a life outside of work as well." In nighttime, you work 14 or 15 hours a day, you come home exhausted, and that's it. Here, you usually work the morning shift or the afternoon shift.
Thorsten said to me, "Why don't you go down to Julie [Hanan Carruthers, executive producer] and just let her know how you feel?" I was like, "Okay!" And so I did. I just told her, "This is so much fun. I'd love to come back. I have no idea how this works, but...." And she said, "You know, let's see what happens." I'm very blessed that I got "Hannah comes back!" It's pretty awesome.
Digest: In your time off, were you given problems by any Zach and Kendall fans?
Haiduk: I didn't, thank God! I noticed that they are very loved and I was very lucky not to. I hope they don't come after me and say, "Don't you dare!"
Digest: Do you know what happened between Zach and Hannah that last night when she begged him to impregnate her?
Haiduk: I don't. Thorsten and I keep looking at each other going, "What happened?" But I'm sure we'll all find out very soon.
Digest
: How long have you been back at the studio?
Haiduk
: I started taping about two weeks ago. I looked forward to seeing all the actors I'd worked with; they're all pretty cool — and the crew upstairs and hair and makeup. It was like the first day of school, walking in, where you know everybody, but you're still wondering, "How is it going to be?" But it was so relaxed. Getting back into it ... It takes a couple of weeks to get into rhythm because there's so much dialogue.
But when I first walked into the hair and makeup room, they welcomed me back with open arms and I was so excited. Then I saw Thorsten! And we got to sit by the window and run our lines and it was fun. It was so much fun.
Digest: When I spoke to the show's head writers, James Harmon Brown and Barbara Esensten, about what was in store for Hannah, they said that a friendship would blossom between Hannah and Krystal, played by Bobbie Eakes. Have you worked with her yet?
Haiduk: I'm actually taping those scenes today. I'm looking forward to working with her, she seems really wonderful and I can't wait. It's nice, too, that they're taking her out of Cambias and letting Hannah see what webs she can weave elsewhere! There are some great scenes and I think Bobbie's excited, too.
Matt Richenthal is the Editor in Chief of TV Fanatic. Follow him on Twitter and on Google+.