On October 8, Amanda Baker takes over the role of Babe Chandler from Alexa Havins.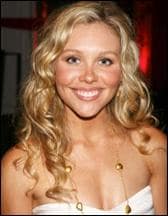 The actress recently spoke to Soap Opera Digest about how she'd play this important part on All My Children.
"What I'm going to bring to the character might be a little bit of a different take, but I definitely wanted to get the characteristics down and stay true to who Babe really is," she said.
Baker, also known for portraying student nurse Jolene Crowell on General Hospital: Night Shift, has worked on numerous television movies in the past. T include Hello Sister, Goodbye Lif and The Dead Will Tell. She also guest starred on One Tree Hill.
"I've always liked having a fixed schedule, and daytime actually provides that for a lot of actors. You can work during the day and know you're going to be out by 8:30 at the latest. You get your script a week beforehand. Night Shift was different because we shot all over the place. It was sporadic. The hours could be anywhere from 7 in the morning until 11 o'clock at night.
We were there all day, which was also a lot of fun. We actually all would hang out together. We got to become really close really quickly. But I certainly don't mind having set times. I think I'm really going to love that," she said, comparing her new acting gig with her work on General Hospital: Night Shift.
So far, working with the cast and crew of All My Children has been a pleasant experience.
"Bobbie Eakes [Krystal] is one of the nicest people I've ever met. She welcomed me, and before we actually got up to tape she came by and said, 'If you ever need anything, please let me know.' I felt a true connection with her right off the bat. That was very helpful, knowing she's going to be playing my mom," she said of her first scene with her character's mother.
Matt Richenthal is the Editor in Chief of TV Fanatic. Follow him on Twitter and on Google+.