When Stephanie is away, Eric will play.
In a recent interview with Soap Opera Weekly, John McCook discusses the controversial angle on The Bold and the Beautiful that has him and Donna getting involved in a relationship.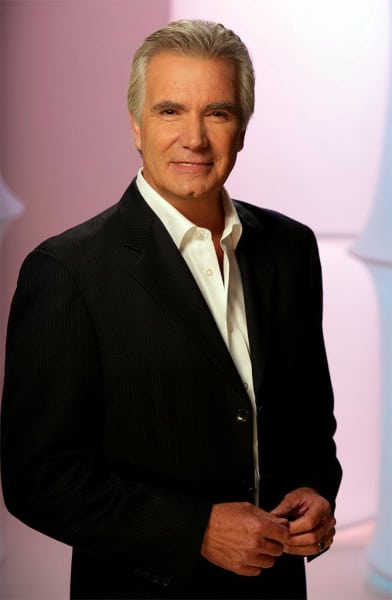 Soap Opera Weekly
:
Eric and Donna's
pairing came as a surprise, albeit a most pleasant one!
John McCook
: We'll see how it turns out. I've had a real re-energizing of Eric. It goes way beyond a sexual relationship. She's fun, and he's actually enjoying himself. He wasn't really in touch with the reality that there was something huge missing in his life besides a warm bed. We keep trying to minimize that, because I don't want Eric to be perceived as just...[out for] sex.
Jennifer Gareis, who plays Donna, has also been very wary of playing "the sex kitten and the older guy." Bottom line is, it's going to be written that way, anyway. [But] we want to make this a different relationship. So far, it seems to be going all right.
Weekly: It started off with some nice subtlety, especially those scenes at Cafe Russe when Eric was buying Donna drinks.
McCook: It was very important to us to keep that scene above [sex], and for her not to flirt. To have a scene where it's a woman and a man talking about what's going on, rather than her flirting with him and making herself available at the bar — in spite of some of the lines they wrote for her. She played against them, and I was really pleased. Of course, everybody's going to be like, "Oh, my God! What's going to happen?" Still, our job is to try to give it the layers and the weight that are required, rather than laying herself on the bar for him.
Weekly: You mentioned this has re-energized you. How would you characterize Eric? Do you think he has gone through any kind of transformation during Stephanie's absence, with Donna by his side (and in his bed)?
McCook: Absolutely. He's absolutely closed off to Stephanie right now. He's not able to deal with her because she left town. What he is feeling is the freedom and the enjoyment of living his life as an artist, businessman and as a man. He's going through big changes. As an actor, what's happening is that, for 20 years, it's been important for me to leave a lot of who I am out of Eric.
For the first 10 years [I played the] businessman. Not a lot of humor, not a lot of energy, not a lot of joy. Just focusing on the business with Stephanie, keeping everything together and being a moral compass for the children. As a result of that, when I was first playing the part they would say, "No, don't do that, John. Just be the man, just be the father, just be the husband." My sense of humor and my energy was something that I had to omit.
But now I can put more of John into Eric. It's actually kind of hard, because I've worked so hard for 20 years to keep myself out of it. Now, it's fun to open those gates a little bit.
Weekly
: Stephanie has always accused Eric of never having a backbone, and now Eric is developing one. Could Stephanie be in for a rude awakening?
McCook
: I think so. I'm just looking at some scenes that we're going to shoot tomorrow, and Eric makes it very hard for Stephanie to come back and be contrite. The question is always how is
Susan Flannery
going to play it. Is it going to be contrite, as written, or a little more aggressive when she comes home? God forbid she tries to be aggressive with Eric, because he's not going to tolerate it (laughs)!
Everyone is disgusted and disappointed in Stephanie now. It's not just Eric. Everybody in the family is turned off by what's happened. She's going to have to work really hard to get back into anybody's good graces.
Matt Richenthal is the Editor in Chief of TV Fanatic. Follow him on Twitter and on Google+.