As previously announced, Mario Van Peebles (pictured)will be joining All My Children as a potential love interest for Erica (Susan Lucci). We now have more information on the character this famous actor will be portraying.
His name is Samuel Woods and he's a prosecutor/senatorial candidate. Mr. Woods is not overly supportive of rights for gay/lesbians couples, however, which leads to the return of Bianca. Yes, Eden Rigel is coming back to the show!
Other All My Children rumors swirling about the role of Van Peebles revolve around his character setting his sights on the newly returned Dr. Angie Hubbard one his fling with Erica is through. Or, perhaps, Samuel is somehow connected to Jesse's "death" (which we will soon learn was faked in order to keep Angie and Frankie safe)?
What do you think? Let us know right now on our message board!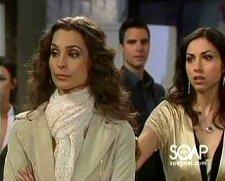 Matt Richenthal is the Editor in Chief of TV Fanatic. Follow him on Twitter and on Google+.