Earlier today, Rick proposed to Taylor today on The Bold and the Beautiful.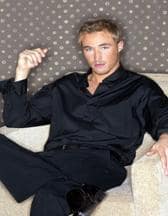 "He's smitten with this woman," Kyle Lowder, who plays young Rick Forrester, told
The New York Daily News
. "It's definitely an impromptu thing. He doesn't even have a ring. He's overcome with emotion and just drops to his knee and says, 'I'm here for you, and I want to be here with you forever.' Needless to say, it catches her off guard."
For good reason. Rick is much younger than Taylor. In fact, he used to date her daughter, Phoebe. Worse, Rick's mother, Brooke, has been Taylor's sworn enemy for over 20 years. It's complicated, great stuff.
"Taylor never says yes, but she doesn't say no," said Lowder. "She's very forthright with him, saying: 'There are too many complications right now. Phoebe doesn't even know about us. Let me tell her you and I have a relationship first!' Plus, there's this whole battle over the baby."
That would be the custody battle between Taylor, who carried baby Jack, and Rick's mother, Brooke, whose egg was used.
"That's what I love about this story," says Lowder. "Taylor finally has Brooke right where she wants her. And it's not like she's using Rick, either. She genuinely has feelings for him. That's what makes the situation so great, because Brooke is distraught about the whole relationship thing. And she doesn't even know about the engagement!"
Continue reading more about this soap story line now.
Matt Richenthal is the Editor in Chief of TV Fanatic. Follow him on Twitter and on Google+.