Ed Westwick lowers his head, narrows his eyes and curls his mouth into his signature Chuck Bass snarl.
Hovering at the edge of the Gossip Girl schoolyard set wearing one of the dandy's trademark candy-colored garments (this one's a traffic-cone orange trench coat), Westwick hops up and down, shaking out his arms like a boxer about to enter the ring.
His foes? Serena van der Woodsen (Blake Lively) and Blair Waldorf (Leighton Meester), the lead characters on Gossip Girl, the modestly rated but wildly buzzed- and blogged-about CW teen drama that's arguably permeating pop culture in way not seen since The OC.
According to USA Today, Ed Westwick completes his Chuck transformation as he strides across the ersatz courtyard in front of the rolling cameras and sidling up to Serena, who's sitting on a bench.
"It's been awhile since I saw the old Serena," he growls.
Gossip Girl's gaggles of fans are thinking the same thing.
On Monday, Serena, Blake, Chuck and the rest of the groomed gang of private high schoolers are back on the Upper East Side to continue the cavorting begun before the writers' strike.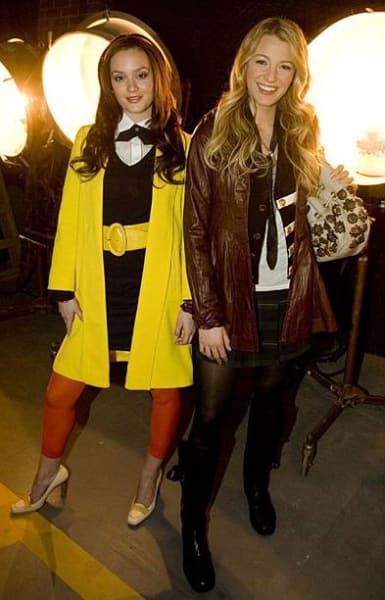 Gossip Girl's Blake Lively and Leighton Meester.
Shenanigans then included breaking into the school pool for a martinis and bikinis party; sleeping with a boyfriend — and his best friend — as Blair did; and (OMG) taking a pregnancy test.
All of which, of course, "everyone does," jokes Meester, especially within the same week. At the end of the last episode, Blair's reputation is in ruin, and Nate, her ex, is adrift, having lost Blair and his best friend, Chuck.
Expect ratcheted-up raciness in the final five episodes of Gossip Girl's Season 1, the cast members themselves reveal. "These scripts have been really juicy and exciting," Blake Lively, 20, says.
For one, Serena's oldest frenemy, Georgina Sparks (Michelle Trachtenberg), returns to reveal why the blond heroine was mysteriously whisked away to boarding school, only to come back in time for the start of the series.
Georgina's presence promises to shake up Serena's uptown girl-Brooklyn boy romance with Dan Humphrey (Penn Badgley). Oh, and one character is coming out as gay, though no one will reveal whom.
It will all be chronicled, of course, via the must-read blog of the anonymous Gossip Girl (voiced by Kristen Bell).
Continue reading this USA Today expose by clicking here. Also, check out the newspaper's interactive map of Gossip Girl locations and its cool slideshow of the cast members on set.
Steve Marsi is the Managing Editor of TV Fanatic. Follow him on Google+ or email him here.