It's our favorite show no matter what, but just how realistic is Gossip Girl? The fun New York Magazine rating system attempts to answer this, taking into account the real and surreal moments from each episode.
According to the show's unofficial publication, this week's new episode, "The Blair Bitch Project," rated about even on the realism scale. Below are some excerpts from this New York Magazine feature ...
It may seem ridiculous that Rufus lets Jenny go to Aspen with her friends (that she seemingly just made), but it's so real. Remember, he and Jenny's mom just got a divorce. He's overcompensating! Plus 3.
The Waldorf maid, Dorota, plays the Will & Grace card. "Club Bed is over," she says, yanking Blair out of bed. Sorry, =cartoonishly sassy maids only exist in the fantasy minds of gay men. Minus 1.
Eric van der Woodsen's hair has really improved, probably per the influence of Chuck. Plus 1.
Jenny puts a large stuffed animal in her bed to fool her brother and father into thinking it's her. Plus 2 for introducing this trick to a generation of kids too young to have seen Ferris Bueller's Day Off.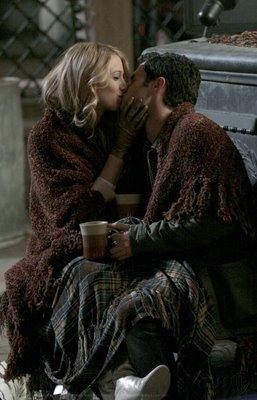 Serena and Dan, adorably and annoyingly, sit outside the Palace with a blanket and hot chocolate. Like homeless people. Not in that courtyard, kids. Minus 1.
A deliveryman pulls up to Constance Billiard. "Serena van der Woodsen?" he asks, casually. Just dumping three cases of Champagne in the entrance to a school? Not even on the Upper East Side, friends. Minus 5.
Isabel observes that Jenny's dad is a hottie. She's right. Plus 2.
Blair Waldorf is walking to school wearing sunglasses and head scarf ... and what is that billowing, royal blue robe? Is she one of the FLDS wives? If so, then where's her Gibson girl cut? Minus 1.
As nausea-inducing as it is, this Gossip Girl quote has a gross ring of truth to it — Serena: "I don't want to share your DNA." Chuck: "Then you should get new hand towels." Plus 2, for going there.
Steve Marsi is the Managing Editor of TV Fanatic. Follow him on Google+ or email him here.