While their characters live the high life in the Hamptons and beyond, the Gossip Girl cast is spending their between-season hiatus on film sets.
It was announced last week that our own Chace Crawford, will be appearing on screens this Halloween in a suspense thriller called The Haunting of Molly Hartley. But that's not all.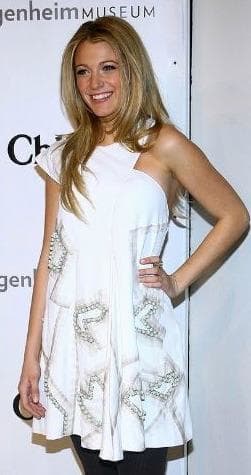 Blake Lively (pictured) is the busiest of the Gossip Girl cast as she is tackling three major movie roles: The Sisterhood of the Traveling Pants 2, New York, I Love You, and The Private Lives of Pippa Lee.
Meanwhile, young Taylor Momsen will be appearing in Doubting Thomas, in which a 12-year-old has to save the president's daughter.
Matthew Settle will star alongside Heather Graham and Joey Lauren Adams in
Ex-Terminators, about a
trio of women who meet in an anger management class and form an unusual new business.
Penn Badgley will be tackling two new roles: Forever Strong, a movie about a young football player portrayed by Sean Faris, and The Stepfather, a new thriller that co-stars Amber Heard.
The deliciously devious Ed Westwick will also be leering his way through two upcoming films: 100 Feet, a horror / suspense thriller starring Famke Janssen, and S. Darko, a sequel to Donnie Darko.
Lastly, Queen Bee Leighton Meester isn't working on any new movies ... but she is working on her debut album!
Steve Marsi is the Managing Editor of TV Fanatic. Follow him on Google+ or email him here.