Gossip Girl star Blake Lively graces the cover of the new issue of Vanity Fair as part of "Hollywood's New Wave." Hooray!
The cover girls: Mamma Mia and Big Love star Amanda Seyfried, 22; Emma Roberts, 17; Blake Lively, 20; and Kristen Stewart, 18.
When it comes to men, fashion, role models and more, the foursome had a lot to say and spilled plenty of it to the magazine.
As for Blake's clothing obsessions, she says "Jimmy Choo and Chanel. I can't stand it: the security guards know me there."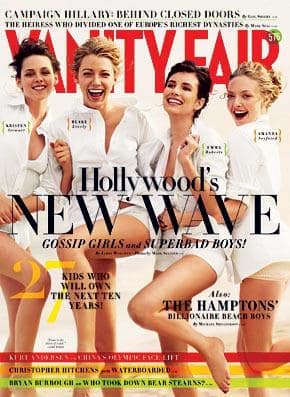 Regarding relationships, Blake Lively, who we all know is seeing Gossip Girl co-star Penn Badgley, joked, "I'm dating Brad Pitt."
Ever down-to-earth, when asked when she had her first quote-unquote Hollywood moment, the Californian joked, "I hope not ever!"
She's awesome. Follow the jump for a photo of Blake and her fellow cover girls, her full profile from the magazine, and a shot of the entire, gorgeous Gossip Girl cast from this terrific Vanity Fair feature story ...


BLAKE LIVELY. Age: 20. Hometown: Burbank, California. Breakthrough roles: Bridget in Sisterhood of the Traveling Pants, Serena van der Woodsen in Gossip Girl. Upcoming film: Sisterhood of the Traveling Pants 2. Levi's or J Brand? J Brand. BlackBerry or iPhone? iPhone. Favorite girl's girl? Angelina Jolie. Favorite movie? Wizard of Oz, Moulin Rouge!, Romeo and Juliet. Xbox, Wii, or PlayStation? Wii. Madden or Halo? "Guitar Hero for Wii. I had them write it into the show! But I just bought the Rock Band for Xbox." Favorite snack? "Whatever's greasier and cheesier the better." Hybrid or Escalade? "Hybrid. Even if anybody picked the Escalade they wouldn't say it, 'cause it'd be, like, bombed."
Steve Marsi is the Managing Editor of TV Fanatic. Follow him on Google+ or email him here.