Prior to last night's Primetime Emmy Awards, Entertainment Weekly's Michael Ausiello caught up with Jennie Garth.
Unfortunately, the actress said confirmation of her extended stay on 90210 was premature.
"I was signed on to do four [episodes], I ended up doing six, and I guess it broke that I was doing more," she said. "But nothing's confirmed at this point. It's still totally up in the air."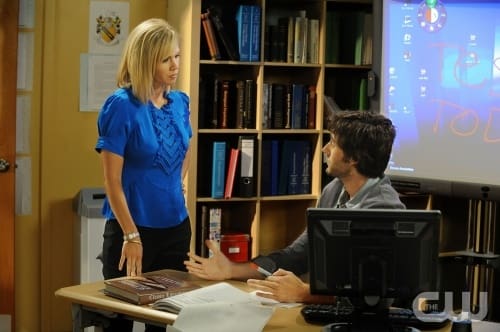 Ryan Matthews certainly wants Kelly to settle down on 90210.
Garth also addressed talk that co-stars Jessica Stroup and Shenae Grimes were way (way, way) too thin.
"It's not my place [to address that issue]. I'm not a producer on the show. I just go in and do my thing and leave. I obviously care about the girls, but they seem healthy and happy, and they love what they're doing.

"If it would make it better," the actress concluded, "I will certainly make some cookies and take them to [the girls]."
Matt Richenthal is the Editor in Chief of TV Fanatic. Follow him on Twitter and on Google+.