Gossip Girl star Chace Crawford, 23, is reportedly dating Drew Barrymore, 33, according to a report this morning on celebrity news blog Perez Hilton.
The pair were supposedly seen at the Saturday Night Live after-party together this past weekend, and were out and about again on Monday night!
Drew Barrymore and Chace Crawford were both at the Kings of Leon concert in New York City and "made no attempt at hiding their relationship."
Multiple eyewitnesses say they were making out, Perez claims.
However, New York Magazine (which is actually based in New York, obviously, unlike Perez) refutes this - sort of. It says Drew was making out with Ed Westwick!
Crawford was in attendance along with Westwick - his best friend and roommate - but New York Magazaine says Ed was the one involved in the Drew kissing.
"Drew was hanging all over Ed!" a witness said, denying the earlier reports that she was spotted smooching Crawford. "They were full-on making out!"
All very interesting for the Gossip Girl stars, linked to the same girl on the same day! What do you think? Who should date Drew Barrymore?
UPDATE: Follow the jump for the Vanity Fair photo that pretty much solves this mystery. You can't see his face, but we're 99 percent certain that it's Ed and not Chace ...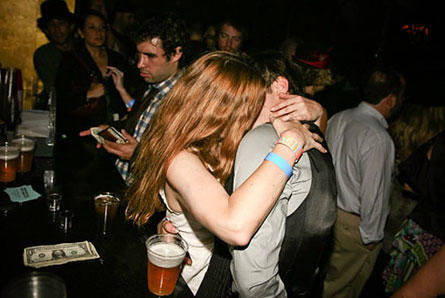 Steve Marsi is the Managing Editor of TV Fanatic. Follow him on Google+ or email him here.