Gossip Girl is back and one of our favorite pieces of media coverage of the show, the New York Magazine "realism scale," has returned as well.
This week's episode, "Summer, Kind of Wonderful," measured +10 overall! Here are some highlights from this unique Gossip Girl breakdown ...
Gossip Girl's description of the Hamptons: "Think Park Avenue but with tennis whites and Bain de Soleil." Plus 1.

Jay McInerney firing someone for not getting work done because they were sleeping around. Please. Dude invented that. Minus 1.

When making out with Nate Archibald in the car at the beginning, Catherine makes nearly the exact same sex faces as Serena did when she and Nate were having sex on the bar at the Campbell Apartment. Plus 4.

Re: Chuck Bass and the Portuguese triplets: Last time we checked, ladies can't take their tops off at any beach in New York. Minus 1.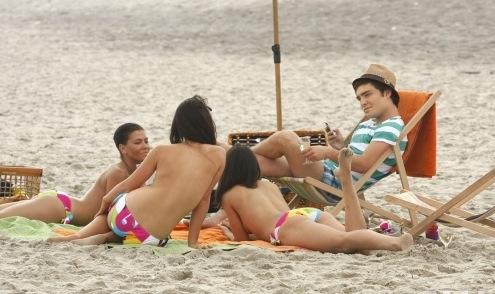 Of course Serena would wear silk while sitting in the sand. Plus 1.
Does Dan not have one single male friend? And does he really call Rufus for advice on girls? It's kind of totally losery. Minus 1.
Jenny, on dinner choices: "It's too hot for Indian, how about Popsicles?" Plus 3, because that is the most anorexic statement ever.

At the White Party, Jenny gives her boss the bitch look. You never give your boss that look. Minus 1.

Ordinarily we would say that no one would actually utter Blair Waldorf quotes such as "Damn that motherchucker!" and "All I could see was that Chuck Basstard," except that she probably thought of them in France and was waiting to say them all summer, which is so teenager. Plus 1.
Steve Marsi is the Managing Editor of TV Fanatic. Follow him on Google+ or email him here.