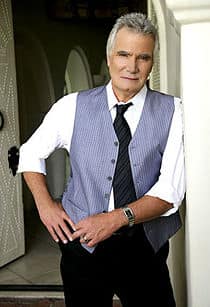 John McCook was recently interview by soap opera writer Michael Fairman.
Here's an excerpt from the conversation:
Did you love the concept surrounding Eric's heart attack?
I thought it was great, because it was a heart attack, and nobody realized it wasn't caused by anybody when it happened. Certainly, none of the actors knew it had been caused by anybody when it happened. I endured a lot of Viagra jokes because it had happened after sex with Donna. I got tired of that.
Then, a couple of weeks into his coma, it had been revealed that somebody had caused it and that it was a 'Whodunit'. Then, that evolved into something else. As Eric recovered, the family worked to keep Donna apart from him. Then, they steal him back, and who does he see? Well, the good news is you're waking out of your coma; the bad news is, your ex-wife Stephanie is there! Then, it was a really wonderful reunion with Eric and his family after that.
Then what happens is that Eric sees Donna and Owen in a compromising position, and it appears to be more than that. Eric freaks out and it almost makes him sick again. They now keep Donna away. But then, this wonderful thing happens of Donna wanting to explain her side of the story, and sneaking into the house to get to talk to Eric. It was pretty cool! It goes on from there.
Matt Richenthal is the Editor in Chief of TV Fanatic. Follow him on Twitter and on Google+.