Gossip Girl star Leighton Meester will be featured on the February 2009 cover of Teen Vogue magazine. As you would expect, she looks absolutely beautiful ...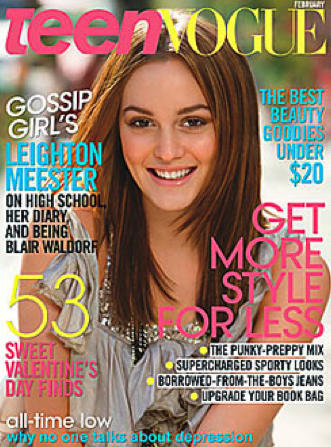 The 22-year-old continues to shine more with each passing episode as Blair Waldorf. In her interview, the Gossip Girl actress opens up about ...
... Her parents' prison past: "I wouldn't have volunteered that information, but I've never kept it a secret either. It's just not my past; it's not my story to tell."
... Her childhood: "I wasn't born in jail; I was born in a hospital. I lived with my mother for a few months in a halfway house, and then I went to stay with my grandmother for a few more before my mom got out. But I had a normal life."
... Her co-star Ed Westwick (Chuck Bass): "He's my favorite actor to work with. We have really good chemistry."
... Her debut album she hopes to release this spring: "The music is very fun. It's edgy, like electropop rather than bubblegum and you can dance to it."
She rocks. Here are some cool behind-the-scenes photos of Leighton Meester from the Teen Vogue photo shoot in New York City. Click to enlarge!
Steve Marsi is the Managing Editor of TV Fanatic. Follow him on Google+ or email him here.