The next new episode of Gossip Girl, airing Monday, March 16, will be called "The Age of Dissonance" - not "Blair Waldorf's Day Off," as was initially and erroneously reported.
The episode synopsis we originally reported has not changed, however:
Chuck is having trouble dealing with the mystery of who his father was and how he spent his spare time. Nate catches Vanessa flirting with another guy, and in a moment of desperation, reluctantly turns to Blair for help - which turns out not as he expected.
Dan purposely ignores Serena's calls and tells Ms. Carr that things are beyond complicated between the two of them right now. Ms. Carr chooses not to take her job back and spends most of her time in an empty apartment with her new fling.
At the same time, Lily and Rufus question where their relationship is going and talk very casually about merging their households, Chuck Bass, however, is strongly against the idea, and does everything in his power to stop it.
That's all in the 18th episode of Season 2 - and it sounds awesome. Guess we know when the long-awaited and controversial Nate and Blair reunion begins.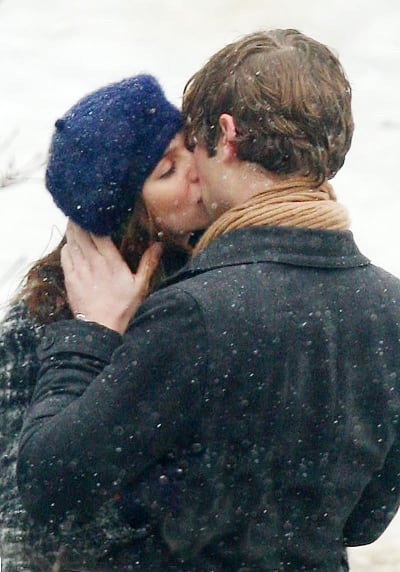 Blair and Nate will be locking lips on Gossip Girl soon enough. [Photo: Splash News]
In the episode after that, "The Grandfather" (2.19, March 23), Vanessa is given an interesting offer by Nate's grandfather that she has a hard time refusing.
The following three Gossip Girl episodes will be "Remains of the J" (2.20, March 30), "Seder Anything" (2.21, April 20), and "Loose Ends" (2.22, April 27).
The final three episodes of Season 2 of Gossip Girl, none of which have titles yet (at least that we can track down), wil air May 4, May 11 and May 18.
Steve Marsi is the Managing Editor of TV Fanatic. Follow him on Google+ or email him here.