It takes a Real Housewife to analyze a series of new, Real Housewives.

With that in mind, Bethenny Frankel of The Real Housewives of New York has started a blog that will detail the happenings across the bridge on The Real Housewives of New Jersey.

The screen is yours, Bethenny...
Teresa seems simple and sweet from the start. She's a flat-chested amateur stage mother with a "built," "gorgeous" husband in construction. Perfect. Let the clichés begin. Her daughter is beautiful and adorable. Over $100K on that horrific furniture? What would Jill Zarin say?

I actually think Dina is very pretty and very attractive. She has a cuteness to her. Daughter Lexi also seems quirky and interesting. We hear Dina talk about her never-present husband of three years. Here's a theme reminiscent of my Countess/Count days.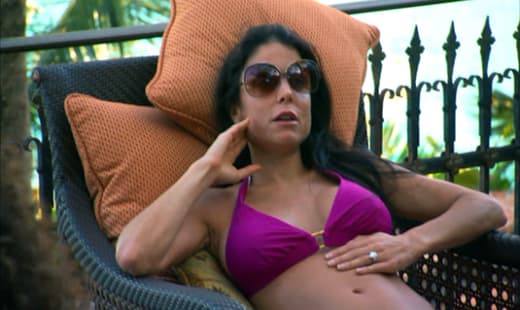 Also, Dina is a cat person, and I oddly like that she has that bizarre looking feline. Her decor is something for the books. More is more in Jersey, that's for sure: hair, nails, cars and over-the-top gaudy furniture. Got it.

I love Caroline and, oh yes, she is a throwback. She will be the sure favorite. Everyone likes old school, especially the Bravo viewer who isn't familiar with this Italian, family-style way of living.

The lingo, the houses, the Brownstone, the whole thing. I get it. I've seen it and it is real. All we want is real, and on Bravo, honesty is the best policy.


Jacqueline from Vegas (what was her prior profession, by the way?) is sweet and simple and also lives for her kids. I'm not sure why anyone was surprised that she doesn't play tennis except for that big rack-et of hers.
I loved those cute balloon cupcakes for the birthday party. Her daughter Ashley seems spoiled but nice too. Major theme: family.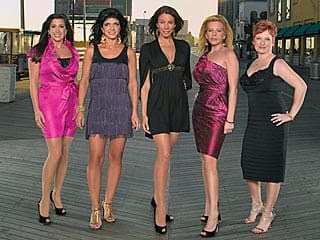 And now for the hottest mess since one of Christian Siriano's victims: Danielle. WTF? Um, embrace your age. I'm embarrassed that at 30 I had a belly ring, but this is past pushing it. No one light a match near this one. Can you say cougar? Twenty engagements? She's me on steroids. So you had a black Amex before Madonna?

How does one get this information? How do I even begin with this tragic human being? I'll give her this: She is being herself and the viewers will be drawn to her like flies to sticky paper.

People watch train wrecks, and my dear, we have a winner. People are going to kill me, but this girl is the poor man's LuAnn.
Matt Richenthal is the Editor in Chief of TV Fanatic. Follow him on Twitter and on Google+.