Ironically, David Good displayed very bad behavior on The Bachelorette this week.
During alone time with Jillian Harris, the suitor often referred to her "tits," appeared to go in for a grope and got rejected when he tried to kiss her. Just a poor showing all around, dude.
Following his elimination from the show, Good spoke to reporters. He was asked about his constant referral to "man code" during his time in the house, especially in light of the revelation that some guys on the show might have a girlfriend; and that Tanner P. relayed this information to Jillian.
"I really like Tanner, I really respect him, and he just doesn't seem like the guy that would go out and, I'll say this, 'break man code' and do something like that.  And as far as I'm concerned that is definitely, definitely breaking man code," David said, adding:
"You don't go tell Jillian that there are some guys on the show that might have girlfriends, you know what I mean? You don't do that.  And you especially don't hint about one [guy] in particular.  You just don't do something like that."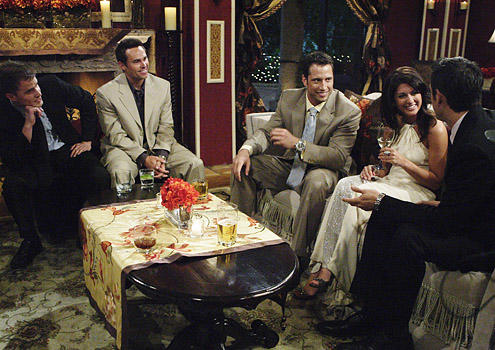 Back up a second, David. Man code? Please explain.
"Man code is like I said, I grew in the country and I'm a country boy at heart.  I'm as blue collar as they come... and there's just a certain mentality about blue collar people like us.

"It's funny, I don't know how to explain it, there's just certain things you do and you don't do.  And there were some guys on the show - I won't name any names - who were obviously raised differently, which is fine, but it's just something I'm not used to it and people were saying certain things that blew my mind that you just don't say about other guys."
Okay. But what about your aggressive behavior toward Jillian? Is that how a real man acts?
"That was 1% of me as a person and that was the 1% that is the bad part of David Good and they decided to take that 1% and run with it. It was kind of upsetting because I'm a very outgoing and funny and comical person and for America to only see that one side was really a loss for...  the show and definitely for me as a person."
In closing, David wants to make one thing clear: he didn't grab Harris' breasts!
"I never grabbed for her boobs.  That was the third time I had to pull her shirt up, I was trying to help her out. That's what I'm saying, nobody saw that was the third time I'd warned her that 'Hey, I'm sorry your shirt is falling down and your bra is sticking out.'  I was trying to help her, I never reached for her boobs or anything like that for crying out loud."
Matt Richenthal is the Editor in Chief of TV Fanatic. Follow him on Twitter and on Google+.