On the first-ever episode of Gossip Girl, Ed Westwick's character, Chuck Bass, bookended a pair of date-rape scenes with a weed reference and the memorable zinger delivered to the show's principal, Serena van der Woodsen:
"Your life is over, slut!"
"Villain is such a harsh word," Westwick tells GQ from a hotel in Washington, D.C., where he has just attended the White House Correspondents' Dinner.
It's hard to imagine what Westwick, a recently minted 22-year-old TV antagonist from England, was doing pressing the flesh with Beltway muckrackers.
But Ed, who looks like Jude Law crossed with a pre-meltdown Joaquin Phoenix, assures, in his assured British way, that "everyone who is anyone was there."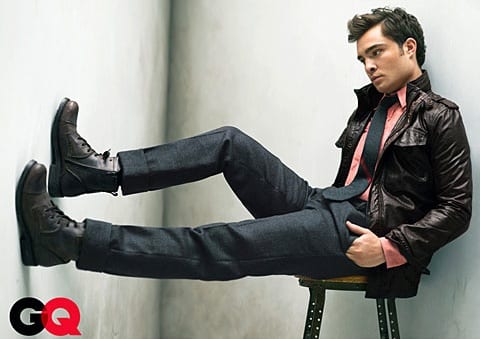 If that makes Ed sound like a bit of a dick, surrender now - it's part of his appeal. Just ask Gossip Girl's freakishly wide-ranging demographic of religious watchers.
Many fans are as riveted by the incestuous nature of the cast as the show itself. Ed Westwick dates co-star Jessica Szohr and is roommates with Chace Crawford.
When pushed to dish, Westwick minimizes the thin line between work and play, and fair enough. You'd date a co-worker if she looked like Jessica Szohr.
In the magazine's preview of the fashion that will help you weather the fall months ahead (odd as that may seem now, in June), Ed Westwick reaches for some classic pieces that embrace timeless style and construction.
Click to enlarge the pics below ...
Steve Marsi is the Managing Editor of TV Fanatic. Follow him on Google+ or email him here.