Welcome to the Gossip Girl Caption Contest - the 62nd edition of this fun tradition!
Follow the link to see who won last week's edition of the Caption Contest, then send us your best caption(s) for this Gossip Girl picture by leaving comments below.
It was, as always, a tough decision, with all of your quality entries. But we chose MustLoveChuck. Congratulations! The winning reply appears below the photo.
Honorable mentions go out to JessicaD, bfan and Kamay. Thank you all for playing and making this such a fun weekly tradition. Best of luck again next week ...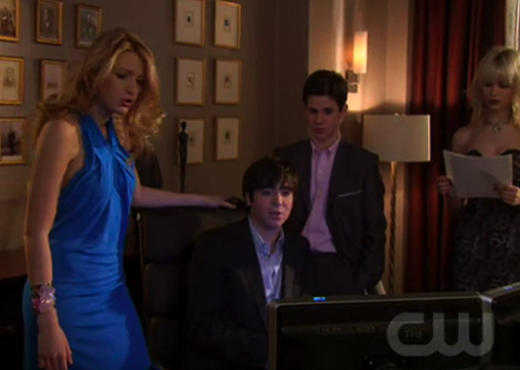 Eric: Wow... Just wow.
Serena: That was amazing.
Jonathan: Go Blair and Chuck.
Jenny: Are you guys watching the Chuck says I love you scene... again?
Serena: It's sooooo sweet though.
Eric: He got her stockings that's amazing.
Jonathan: I just love the background music.
Jenny: I need new friends.
Steve Marsi is the Managing Editor of TV Fanatic. Follow him on Google+ or email him here.