Gossip Girl Spoilers: Angry Chair Sex and a New Couple
Steve Marsi at .
Below are the Gossip Girl excerpts from E! Online's weekly TV spoiler chat. They've got some quality - and quite steamy! - stuff on our favorite show today!.
Let's get right to it. Tell us what you think by posting comments below ...
Q: Is the rumor true that Chuck and Blair are gonna try to have a threesome on Gossip Girl? Tell me they will not go through with it and that it might bring some sexy time for these two? I think we need it as much as they do.
A: You guys come up with all the best rumors! Our sources tell us there's no threesome between Chuck, Blair and a third player to be named later, but there are a lot of C&B sexcapades happening in Gossip Girl season three.
And white-hot angry sex is on the list.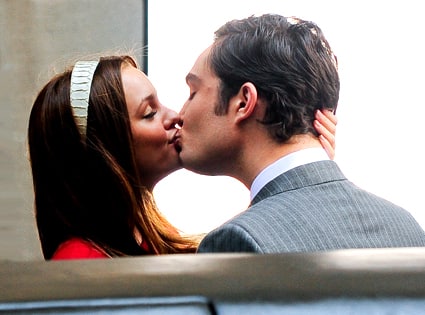 Q: Any scoop on Olivia and Dan's relationship on Gossip Girl?
A: The newest fabulous Upper East Sider, Olivia (Hilary Duff), likes that Dan doesn't recognize her as a famous movie star.
Q: Any news about Jenny on Gossip Girl?
A: Jenny's going to have to defend her queen-dom against the mean girls. Makes sense. Mean girls don't usually surrender the spotlight so easily.
Q: Anything on Carter Baizen since Sebastian Stan's show Kings is kaput? Is he back on Gossip Girl? He's shady.
A: Shady Carter is going to be hooking up with Serena! Yes, Serena van der Woodsen and Carter Baizen are going to try to make a go of it in Season 3 of Gossip Girl. Forgive us if we're not optimistic about their long-term prospects.
Steve Marsi is the Managing Editor of TV Fanatic. Follow him on Google+ or email him here.