Based on previously reported 90210 spoilers, fans know that John Schneider has landed a recurring role on season two. He'll play Liam's step-father.
Yes, the same man responsible for sending Liam to military school on the May finale. Based on Matt Lanter's talk with TV Guide Magazine, the feud between his character and this parent is far from over.
"We're butting heads and he's giving me s---. It's great, man," Lanter said. "What's funny is that he's the nicest guy out there and he's playing such a d--- on the show, but is really one of the nicest guys, a very generous actor and an all around good guy. I couldn't ask for anything more than to have a scene partner with someone like John Schneider."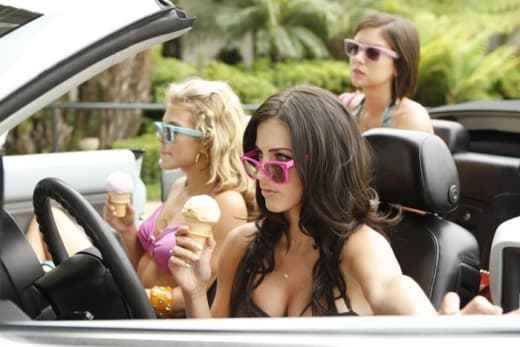 Meanwhile, AnnaLynne McCord said 90210 viewers will see her character scheming against rival Annie. How so? The actress explains:
"My funnest teaser that I have so far is Naomi gets some yummy, yummy blackmail vengeance on Annie and it's very bad. It's very bad – don't do this at home! In the first episode Naomi gets ahold of some material that she uses around school to blackmail Annie. So tune in September 8th!"
Okay. We will.
Sound off on upcoming scoops and storylines in our 90210 forum!
Matt Richenthal is the Editor in Chief of TV Fanatic. Follow him on Twitter and on Google+.