One of New York's greatest bands, Sonic Youth, will perform an acoustic version of their 1986 single "Starpower" on the fifth episode of Gossip Girl this fall.
"Sonic Youth is one of my favorite bands," Gossip Girl executive producer Stephanie Savage said, "and last year when I was doing my regular Gossip Girl Google search, it came up in some blog about a Sonic Youth show that Thurston [Moore] was playing 'Psychic Hearts' and Gossip Girl was playing on a screen in the background."
"And I was like, 'Whaaaat? Oh my God. I hope they're not making fun of us! I hope it was a cool, edgy homage!' And it turned out that it was - tongue in cheek for sure, but definitely with love, and that they were fans of the show."
Last year, Moore (who has a 15-year-old daughter with his wife, Kim Gordon) and Be Your Own Pet's Jemima Pearl cut a cover of the Ramones' "Sheena is a Punk Rocker" for Jenny Humphrey's guerrilla fashion show, and the talks continued from there.
"We have a very special event coming in episode five that we're filming right now," the Gossip Girl show-runner says, "they seemed the ideal musical guest for it."
But, in traditional Gossip Girl fashion, Stephanie Savage is keeping quiet about the exact circumstances of the festivities involved. "It's a big event that involves [engaged adults] Rufus and Lily. Just draw your own conclusions," she laughs.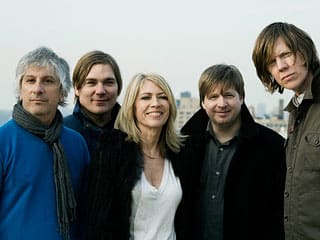 Steve Marsi is the Managing Editor of TV Fanatic. Follow him on Google+ or email him here.