So Gossip Girl's Chuck Bass is kissing a boy, and he liked it.
Or not. Very much not.
According to the excerpts from E! Online's spoiler Q&A below, the Basshole's much-anticipated same-sex kiss is not doing his relationship much good.
On the plus side, it does not look like Blair is losing Chuck to the other team. Here's what the experts have to say about Chuck's dalliance and more:
Q: Can you please put the Chair fandom at ease and let us know that this Chuck "gay kiss" on Gossip Girl does not mean Chuck will be playing for both teams but is really just a scheme and will serve to bring Chair even closer at the end of it?
A: OK... so ... the good news for you Chuck-Blair fans is that Chuck is not really playing for both teams on Gossip Girl (in the books he's bisexual).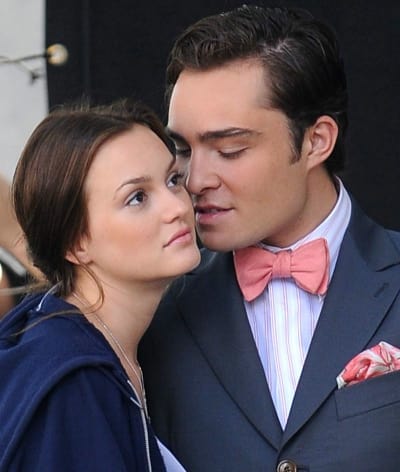 The bad news is that Chuck's gay kiss is not doing Chuck and Blair's relationship any favors. Why? Because Gossip Girl's resident crazy lady (that's Blair, just so we're clear) tricks Chuck into kissing that boy, and Chuck's pissed after the fact.
Don't panic, Chuck and Blair are not totally breaking up over this, but it does put a major kink in their relationship.
Q: What brings Vanessa's mum to New York on Gossip Girl?
A: Gina Torres is going to be on Gossip Girl - can you believe it? How is she introduced? Well, Vanessa finds out she is going to give the freshman toast at NYU and invites her mom. Mom, however, disapproves of Vanessa going to college (?!).
Yeah, apparently because Mr. and Mrs. Abrams are super-hippie, anti-establishment types. Awww, they're just mad she didn't go to Reed or Oberlin.
Steve Marsi is the Managing Editor of TV Fanatic. Follow him on Google+ or email him here.