Heather Locklear comes back to Melrose Place in November.
But fans got a glimpse of a returning bitch of a different kind last night, as Josie Bissett's Jane made quite the impression on Ella.
What sort of problems did Jane cause? And how far has Lauren sunk in her new, shady profession? We have all the answers in our Melrose Place episode guide!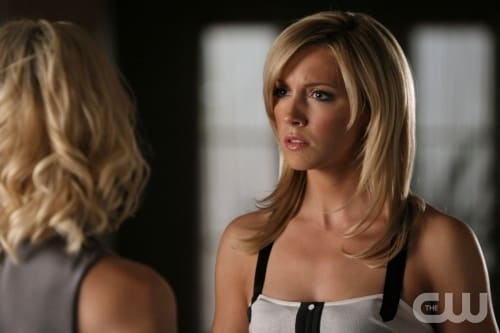 Among our favorite Melrose Place quotes from the latest hour were:
David: You can't tell me you didn't have a good time.
Ella: Don't flatter yourself. I always have a good time. | permalink
Ella: I don't think anyone has ever offered to destroy an enemy of mine before. It's almost romantic. | permalink
Jonah: Did you just tell me Violet is Sydney's daughter? I'm not a little fuzzy from my two Rum and Cokes. | permalink
Caleb: Why don't you have me give you Marc Jacobs' cell? We're in a Capture the Flag league together. | permalink
Matt Richenthal is the Editor in Chief of TV Fanatic. Follow him on Twitter and on Google+.