Now that Bree Buckley is out of the picture, and Carter Baizen looking like he could be soon as well does that clear the way for Nate and Serena to get together?
All signs point to yes, at least according to what we've seen on the show this season, heard up until this point, and read in E! Online's spoiler Q&A this morning.
Excerpts below ...
Q: I'm dying for Gossip Girl scoop! Will Nate and Serena get together? Or Dan and Blair? I keep hearing rumors, but I have to know if they are true.
A: One of them is. And I know you smarty-pantses will figure it out: Nate and Serena are definitely circling toward somethin' somethin' (yee!), while I'm told there is nothing in the future (at least not yet) for Blair and Dan.
The Gossip Girl writers wouldn't Dair, would they? (Ba-dum-bump.) And in all seriousness, Blair and Chuck are still going strong.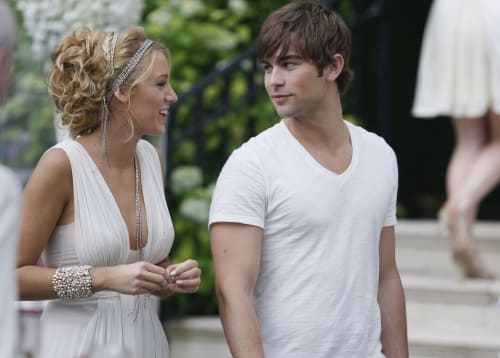 Is a coupling up of Serena and Nate just around the corner?
Q: Does the Gossip Girl threesome involve Rufus? I was told it involved Serena's little brother but can't be sure. That can't be right, can it?
A: The idea of Roofie in a threesome kinda makes me throw up in my mouth a little. Sorry. It's not Rufus Humphrey. The threesome participants are cuter and younger, but not as young as Eric van der Woodsen.
We said it last week and we'll say it again:
It's gotta be Dan-Vanessa-Olivia, right?
Steve Marsi is the Managing Editor of TV Fanatic. Follow him on Google+ or email him here.