For at least one future episode of The Big Bang Theory, Kelly Cuoco might not be the best looking woman on set.
Katee Sackhoff - best known, by far, for her former role as Starbuck on Battlestar Galactica -  will have a cameo in the November 23 episode. The Chicago Tribune's Maureen Ryan reports the actress will play herself in a scene.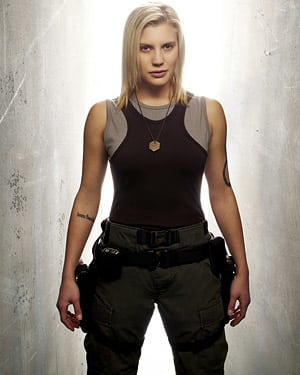 CBS must really love the beloved, iconic sci-fi series. Another past star, Tricia Helfer, has signed on to appear in an episode of Two and a Half Men.
Just how much does Sheldon love Battlestar Galactica? Watch a clip below, from "The Cornhusker Vortex," to find out.
[video url="http://www.tvfanatic.com/videos/the-cornhusker-vortex-scene/" title="The Cornhusker Vortex Scene"][/video]
Matt Richenthal is the Editor in Chief of TV Fanatic. Follow him on Twitter and on Google+.