To the surprise of many, Rebecca Budig is returning to All My Children this winter.
It ought to be interesting to see how the actress reprises the role of Greenlee Smythe,  considering the character died in a motorcycle crash last year.
Debuting in January on the series, Budig spoke to TV Guide Magazine about the decision and made a humorous comparison to a certain pro quarterback. She said:
"I leave. I come back. [Laughs] I'm the Brett Favre of soaps. I think Greenlee went into a river. Or maybe a lake. I don't know. Pine Valley is ridiculous. They even have a freakin' ocean in that town. It's a contract deal.
"[Executive producer] Julie Carruthers and I had a really nice conversation where she was feeling me out about coming back. I said, 'I'm open to returning, but I just want to make sure there will be a great story because it's going to be right at the start of pilot season. I don't want to commit to something that's not worthwhile and fun.'"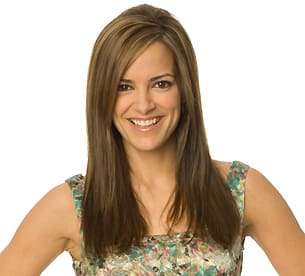 How might Greelee return?
"Good question,"Budig replied. "When I got the call about coming back, I said, "Tell me how you're gonna get outta this one!" They said, "You got any ideas?" I'm, like, "Nooooope. Not a one. That why I act and you write. So what's your pitch? Cause I ain't got nothin'!"
All My Children viewers will need to tune in this January and find out.
Matt Richenthal is the Editor in Chief of TV Fanatic. Follow him on Twitter and on Google+.