Oh, J.
Little Jenny Humphrey has been cruising for trouble on Gossip Girl from the very beginning. This season, it's only gotten worse, turning on her own brother/BFF, running with the miscreant, drug-dealing son of a diplomat and more.
Judging from pics of Taylor Momsen on set, we don't think we've seen the baddest of this bad girl, either. "Keep your eye on little Jenny Humphrey," creator Josh Schwartz recently teased about the show's 2010 return.
With the 16-year-old strolling around Manhattan in a worn-out white tee, short skirt and visible garters, it's certainly not hard to do what Josh instructs.
But are you a fan of bad girl, troublemaker J? Are you excited to see Jenny slinging drugs and pining for Nate, or should the youngster just take a hike?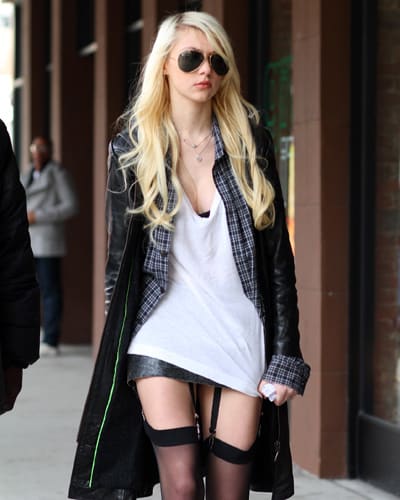 LOVE HER, HATE HER: Either way, Taylor Momsen's Jenny Humphrey is a captivating character, and we can't wait to see what she does next.
Steve Marsi is the Managing Editor of TV Fanatic. Follow him on Google+ or email him here.