With 2010 bearing down, head writer Bradley Bell is opening up about what's to come on The Bold and the Beautiful.
Will the soap opera be able to repeat its success of 2009? The producer spoke to MSN about various spoilers and storylines in the year ahead...
On the future of Jackie and Owen: Everyone says, "Can't we ever have a happy couple?" And we do with this unlikely duo, but they are going to be challenged in 2010 as never before. As will Jackie M, the fashion house. Trouble is brewing.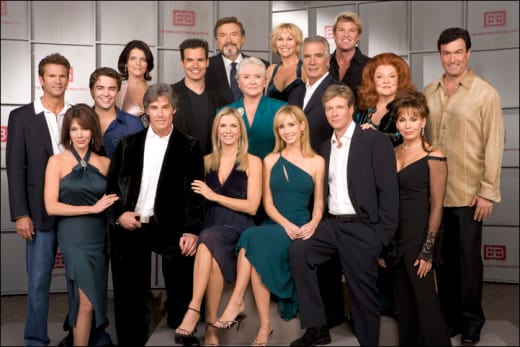 The Bold and the Beautiful cast: Often changing, always entertaining.
On a fearsome foursome: There are going to be major things that happen with Eric and Donna, and also with Ridge and Brooke. They've found incredible happiness, but so much is happening now. With Katie in charge of Forrester, the Logans have taken over the company that Stephanie and Eric founded and Ridge and Eric made through their designs. The Forrester men are not happy. Conflict will ensue, and you can bet we're going to hear from Stephanie!
On the new Hope: Brooke slept with her daughter's husband, Deacon Sharpe, and became pregnant. Now, Hope is a walking, talking reminder of Brooke's greatest transgression, but she's a good kid.
She's independent and embodies a lot of her father, Deacon. She can take care of herself, and she's confident. But she's the stain of the Forrester family. It's something she wants to forget, yet her adversaries are going to remind her she is not a Forrester. It's going to come to a head.
On Taylor's Internet dating: She and Whip are going to go on a few dates, so Internet dating works. Taylor needed a man, and I thought it would be a fun way to bring them together. Nobody likes to confess to internet dating, but it's something a lot of people do. And it can have wonderful consequences. Taylor and Whip, two single people who go home alone at night, are going to find a wonderful friendship.
Matt Richenthal is the Editor in Chief of TV Fanatic. Follow him on Twitter and on Google+.