NCIS: Los Angeles Season 1 Episode 13 Review: "Missing"
Steve Marsi at . Updated at .
Last night's NCIS: Los Angeles began with a mystery involving one of the team's own: Dom Vail has been abducted, is nowhere to be found, and we have no idea why.
Upon the episode's conclusion, all of that is still true.
All of the team's efforts to hunt down Dom were in vain, at least for now. Here's our full episode recap if you missed it, then check out TV Fanatic's review of "Missing" ...
Dom was parked in an alley in a seedy neighborhood of L.A., which probably was not the best idea. He was ambushed and dragged from his car by masked gunmen.
There was a struggle. Shots were fired and a lot of blood was lost. It is unclear what happened beyond that, to the viewers as well as to Dom's co-workers at NCIS.
Callen leads the team investigating Dom's kidnapping, but it's a challenge. Who would take a rookie agent with no enemies? Why was he even parked where he was?
No one knows.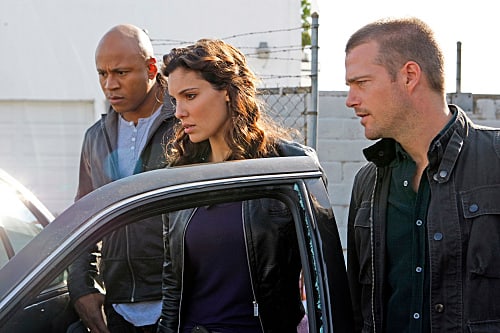 Sam, Kensi and Callen survey the crime scene were Dom was taken.
Whoever took Dom knows what they're doing, too. They can only get a GPS feed from his phone for a split second, which brings them to a random house in Valencia, Calif.
There, a Colombian national is found dead. NCIS ties the guy to a local nurse (his sister), who confesses that her brothers, also Colombian gangsters, brought Dom to her.
She patched up a slight bullet wound he suffered. He's okay. But still missing.
Posing as a gangster himself, Callen calls the Toro brothers and offers a trade: Dom for their sister. The prisoner exchange in an abandoned warehouse goes horribly wrong.
Neither party brought the people in question and after Sam saves Callen by shooting the two brothers, we learn they were hired to kidnap Dom and turn him over for money.
Which they did, and thus, they don't know where he is either.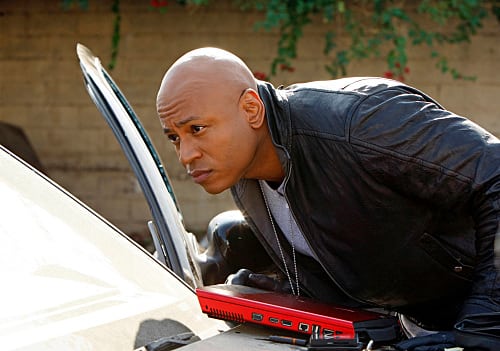 Sam takes responsibility for not having the rookie's back.
With no resolution, Dom's status unclear and next week's promo showing no signs of a "to be continued," we're left wondering if an NCIS: Los Angeles cast member was just offed.
That would certainly be an unexpected move from a procedural drama, which normally ties each episode into a perfect bow at the end. We have mixed feelings on being left hanging.
On one hand, basically nothing happened last night. On the other, unsolved cases do happen in real life, and it's realistic that even the most bad-ass agents would occasionally lose.
Similarly, Dom being a relatively minor character makes us less attached, while leaving him (and the case) shrouded in mystery. As Sam said, he has no enemies. Who took him?
If it were Callen, you know he'd turn up sometime. There's no show without Callen. But Dom? He really may not. At least that's what we were led to believe at the end of the episode.
In a closing montage, the agents cope in their own way. Callen and Nate slave away at work. Kensi cleans up Dom's apartment. Sam annihilates a punching bag. Hetty makes tea.
Where will this arc lead? Is it even an arc at all? We'll have to stay tuned.
RANDOM THOUGHTS:
While not as good as last night's NCIS, "Jet Lag," the LA model is coming into its own. It's starting to forge its own identity, even if (like Callen) that identity is enigmatic.
Remind us never to get on Eric's bad side. Guy knows everything.
We really, really wish we could have seen Hetty singing Bon Jovi.
Steve Marsi is the Managing Editor of TV Fanatic. Follow him on Google+ or email him here.