While two more episodes of Scrubs have been recorded, ABC aired the last scheduled episode of the show's ninth season last night.  So what did we think of what was possibly the last aired episode?
It's kind of a shame, because Scrubs med school continues to get better each episode this season as the new characters take up more and more screen time.  On this week's episode, "Our Dear Leaders," it was hell week for the medical students.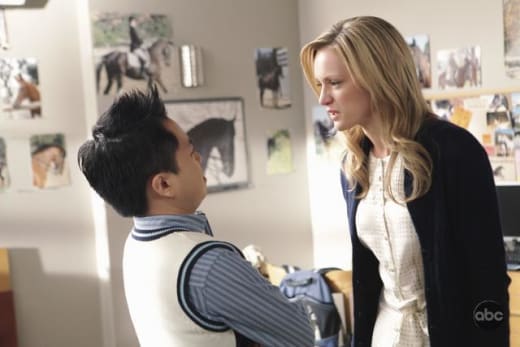 Drew, who's clearly become a leader both in terms of the show and his on-screen study group, decided he wanted to step down from helping everyone, and Lucy was forced to step up.  Much like her inability to take the torch as narrator from J.D., she was unable to lead the study group.
We were glad to see a softer side of Cox as he mentored Drew into becoming the natural leader he is.  After eight seasons of Coxian Cox, it was nice to see him finally able to show a nicer side, even managing to do it in character.
Unfortunately, Turk and the Scrubs writers desire to drag him down to the level of the students, had him regressing back into a petty, jealous Turk of seasons ago.  It was weird to see a Chief of Surgery getting so jealous of a visiting doctor.  Owell, at least we got to see Turk attempt to dance again.
Overall, the episode had us smiling the whole time and plenty of laugh out loud gags.  James Franco does just fine in the background taking over for Ansari's Ed as Cole.  When he's not the center of storyline, his quick jokes are actually pretty tolerable and funny.
Plus, hey, we're in love with any episode that features Maya, even if she has almost no dialogue.  She does a gorgeous job of just standing there.  Lucy, meanwhile, who's normally one of the weakest characters had some of the best lines this episode.  While we didn't necessarily love her crazy, we did love her calling out Trey and asking "You feeling froggy?  Then leap son."  Amazing.
It's sad to know that just as the Scrubs cast started to grow on us, ABC isn't even going to get to air its remaining two episode.  We're hoping they move this show to the Wednesday comedy night on ABC and at least see how the last two episodes do in the ratings.
Hey, ABC owns the rights to Scrubs now and has money to be made off DVD sales, so anything's possible.  Until then, you can catch our Scrubs quotes from the episode and our rating after the jump.
Turk: Sir, do you just hang around waiting for conversations to weigh in on?
Dr. Kelso: Yeah, that and my judge shows get me through the day. | permalink
Denise: Why you moping around like a tiny girl bitch?
Turk: Wow, can't you ever be like "hi," or even better, "what's up?"
Denise: Sure, what's up tiny girl bitch? | permalink
Dr. Cox: I have a hospital full of incompetents hammering me with asinine questions every second of every day.
Todd: Uh Dr. Cox, your patient in three is septic. Antibiotics or vasopressors?
Dr. Cox: Antibiotics first.
Drew: That wasn't so dumb.
Dr. Cox: Wait for it...
Todd: Oh did you get my request for scrubs that hug a little closer to my wham bam?
Dr. Cox: Thank you Todd for being the example to a point you don't understand. | permalink
Russel: Jambo doctors. That's Swahili for hello or good morning.
Turk: Oh is it really? I know what it means. I had a jambo juice this morning. A berry blast with echinacea boost. It was delicious. I'm going to live forever, you're gonna be dead. I'm gonna be alive! Alive!
Denise: Wow, sure you didn't get a fem boost in there? That was pretty catty. | permalink
Eric Hochberger is the programmer of TV Fanatic, so please forgive his mediocre writing. His programming is far better. Follow him on Twitter and/or email him. Just don't request threaded comments. They're coming.