After waiting over a month since we heard that Danica McKeller was going to guest star on The Big Bang Theory, we finally got to see grown up Winnie Cooper make her appearance last night as Raj's potential love interest.
After Raj bribed Sheldon into going to a university mixer as his wingman, the two by some miracle managed to hit it off with Abby (McKellar) and Martha (Jen Drohan) and somehow even bring them home for some Rock Band.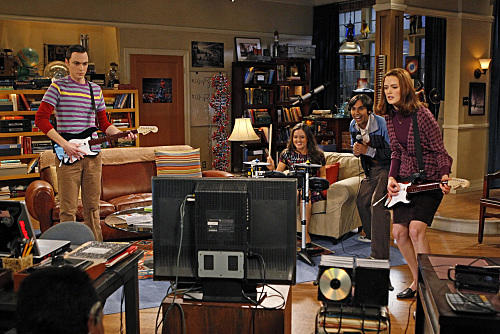 The hilarious and only slightly unbelievably story line led to some hilarious moments including Sheldon's hulk impresions, his creepy smiling, declaration of scoring, and the more horrifying than hilarious walking away from a girl sitting on his bed.
That seems like the nail in the coffin for the Sheldon-Penny relationship some crazy fans seem to want.  We official declare Sheldon asexual after this episode and hope we never have to hear of that potential pairing again.
Meanwhile, Leonard and Wolowitz took their girlfriends on a double date and Leonard managed to get into an argument with Penny, when he discovered she believed in psychics.  Hence the episdode title, "The Psychic Vortex."  Leonard was slightly unchararistically jerky towards Penny, but man did it have us laughing.
While Leonard's story line wasn't nearly as entertaining as the mixer, it did lead to an interesting conversation between Wolowitz and Leonard at the lab, where Leonard seemed horrified that he'd have to give up all his beliefs just to continue sleeping with a consenual, attractive woman.  Sorry, buddy.
Overall we thought it was one of the best episodes of the season, even if Sheldon's move at the end had at us screaming at the television.  Now for some of our favorite The Big Bang Theory quotes from the episode:
Wolowitz: I once dated a girl who believed she was abducted by aliens.
Leonard: And that didn't bother you?
Wolowitz: Au contraire; it meant she was gullible and open to a little probing. | permalink
Raj: Come on, let's get a drink.
Sheldon: I don't drink.
Raj: Well I do, and when my wingman is carrying a Green Lantern lantern, I drink a lot. | permalink
Penny: Wow, that's all you got after you were the most obnoxious person on a double date that included Howard Wolowitz? | permalink
Sheldon: If outside is so good, why has mankind spent thousands of years trying to perfect inside? | permalink
Eric Hochberger is the programmer of TV Fanatic, so please forgive his mediocre writing. His programming is far better. Follow him on Twitter and/or email him. Just don't request threaded comments. They're coming.