This makes House two for two.
Earlier in the season, the show aired an entire episode focused on Wilson. What were his days like? How did House interfere with them? What new piece of information about the character could be revealed?
It was a nice change of pace from the series' typical format, which can get a bit repetitive, even for the most die-hard House fan.
The same can be said about "5 to 9." What a wonderful showcase for Cuddy and Lisa Edelstein.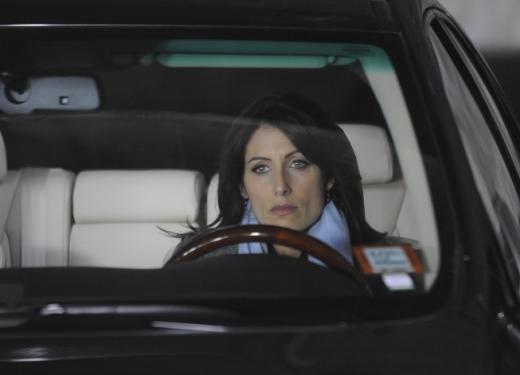 At times, the hour tried a bit too hard to paint Cuddy as no-nonsense administrator (seriously, how many times did someone else refer to her as "tough" throughout the episode?), but it did a great job overall depicting life at Princeton Plainsboro from someone else's perspective.
Usually, we're only treated to scenes with Cuddy whenever House has a problem or needs medical permission for a procedure. We've grown to know the character over the past few years, but she still often serves just one purpose: a foil for House.
This week, it was a joy to see that Cuddy isn't just sitting behind her desk all day waiting for her next interaction with House.
She's dealing with disloyal employees; she's meeting with the board; she's taking a stance with an insurance company that many view as professional suicide.
Edelstein clearly knows this character well. She never gives in fully to any doubts Cuddy may have, but mixes her bravado with occasional vulnerability and hesitation when the situation calls for it.
This episode lacked the humor that accompanies House's conversations with Wilson or his staff because, let's face it, Cuddy isn't the funniest person on television. But she brings a sorely-needed professionalism to the series, as a hospital based around people such as Wilson or House would quickly fall apart.
A few criticisms about the show:
A bit too heavy on the insurance storyline, despite being relevant to our times. Likely went over the heads of many viewers, or simply bored them to death.
Cuddy and Lucas still don't click as a couple.
Note to Cuddy: if you agree to a morning quickie, do you really expect to enjoy it to the fullest extent, so to speak? It is referred to as a "quickie," after all.
We'd never complain about too much Hugh Laurie and House himself continues to be an interesting focus for the show. But Patients of the Week can grow a bit tiresome. One of our favorite scenes was when House was about to make a diagnosis, but Cuddy's elevator doors shut before he finished. No time for smaller cases this week, House. There's an entire hospital that needs saving!
Wasn't it refreshing to mix things up a bit? The series can't go in this direction too often, as we're not advocating for a Foreman-based hour; nor do we wish to see the title changed to House/Wilson/Cuddy.
But it was a welcome change of pace, which delivered the following great House quotes:
Cuddy: We earn this money. If we have to take your house to get it, we will. | permalink
House: I tried to cure a guy with cancer by using malaria to win a $50 bet. You really wanna be more like me? | permalink
House: Ever notice how many porn sites have "mom" in the name? | permalink
Cuddy: You're growth might be good for the bottom line, but ours allows us to save lives. | permalink
WHAT DID YOU THINK OF THE EPISODE?
Matt Richenthal is the Editor in Chief of TV Fanatic. Follow him on Twitter and on Google+.