To paraphrase Michael Scott near the conclusion of last night's episode:
Isn't the air a little fresher this morning? Aren't the birds singing a little prettier? Won't those 2:30 p.m. ants on a log taste a little better?
Indeed, order has been restored on The Office, as perfectly evidenced by the closing scene:
Jim calmly dunking Dwight's tie into his coffee. That's the Jim Halpert we know and love! We understand he's in this for the money (and the women), but viewers have been yearning for the prank-pulling, dry-witted Jim for weeks now, as opposed to that corporate drone we've been stuck with for most of this season.
Our only complaint: Michael as a salesperson and Jim having to manage him could have played out for another couple of episodes. There seems to be missed potential there.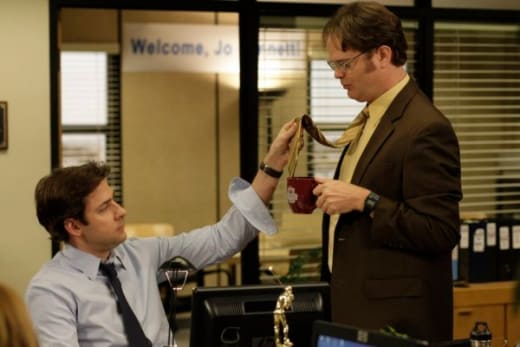 He appears to be back now, as does the inner-office shenanigans and one-liners that make this the funniest show on TV when it's hitting on all cylinders. To wit:
Andy has a "good crotch," according to Jo's dogs and, based on her nod and smile, according to Erin as well. Hot, hilarious stuff!
Dwight and Ryan could have their own, diabolical spin-off. It's unclear which was funniest about their scenes together: Dwight's affection for see-saws; Ryan's attempts at Lord of the Rings banter; or Ryan's scarf, his latest random article of clothing.
Michael has only been doing half a job as co-manager... at best.
At other times, he's been thinking of cigarettes whenever he sees a penis.
There's a strip club with women Kevin might enjoy watching. His reaction to this tidbit? NICE!
Gotta love the use of office emails. Those are the sort of small, realistic touches that bring out the best in this sitcom. The first mention of them made it acceptable for Phyllis to smell like sulfur; while the second brought out the jealous, hilarious side of Kelly.
But enough from us. We know you come here for a review of The Office quotes that stand out the most each week. We present them below.
Andy: It's not 'cause of the smell; I'm just expecting a nosebleed. | permalink
Michael: Where'd you get that information?
Oscar: Manual.
Michael: Manuel who? | permalink
Dwight: Of course I seesaw, Mose and I seesaw all the time. | permalink
Meredith: Yeah, I have this thing about men cutting or threatening to cut my throat. Don't try to cut my throat! | permalink
Ryan: Did you see Saw?
Kelly: I guess in most romantic comedies, the guy you're supposed to be with is the one that you've never really thought of in that way. You might have even thought he was annoying, or possibly homosexual. | permalink
Michael: Camel cigarettes did the same thing with Joe Camel by making him look like a penis. I can't even go near a cigarette now without thinking of a penis, and vice versa. | permalink
Dwight: I wish I had a lair. | permalink
Jim: In which movie did they realize the boss was within earshot and they just went to talk to her?
Michael: Lethal Weapon?
Jim: Then I think we should do it the Lethal Weapon way. | permalink
Did we miss any? What was your favorite line from the episode? And what did you think of Kathy Bates as Jo Bennett? Funny or unnecessary?
Matt Richenthal is the Editor in Chief of TV Fanatic. Follow him on Twitter and on Google+.