We've had the pleasure of interviewing 90210 new comer, Trevor Donovan, for a second time.  Donovan, of course, plays Teddy, the player gone monogamist with Silver.
Donovan gave us a preview of what we can expect with his character in future episodes and what to expect from the highly-anticipated season finale.  We thank Trevor Donovan for his time and enjoy the excerpt below:
TV Fanatic: What has the transition from soap opera to primetime been like?
Trevor Donovan: Well it's been fantastic.  I'm loving working on the show.  It's easier, to tell you the truth.  On a soap opera you're shooting an entire episode every day and this takes a good week so you have more time to work on scenes and stuff.  It's been great.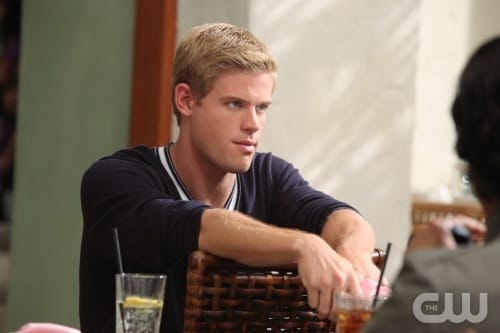 TV Fanatic: 90210 took a long hiatus before returning in March. Was there any fear this would halt momentum or cause the show to lose viewers?
Yeah, there was a little bit of concern.  The network knew what they were doing.  There were a lot of time the other shows on different networks at the same timeslot, so we weren't fighting for ratings.  a little bit of concern, i think it worked out just fine.  it brought all the viewers that might have missed prior episodes up to speed.  and now we're up and running.

TV Fanatic: Talk about Teddy. When he first came aboard, he was an arrogant jerk, but we've seen more layers of him little by little. Will we be learning more about the character?
My father comes into picture, not only does that bring in another storyline, but you'll definitely see a different side of my character.
TV Fanatic: Can you tell us a little more about your father?
He's played by Ryan O'Neil.  He's an Oscar Award-winning actor and comes into the picture and he puts his career first.  That brings a lot of tension between him and I and Silver and me.

TV Fanatic: The show made an effort to unite Teddy, Dixon, Liam and Navid as friends. What's the chemistry like between you and the actors that play those roles?
It's great.  i kid you not, these guys are so cool.  it was a little intimidating working with an ensembled cast who's been working together for a year.  They were so welcoming, and helpful.  They're all really good people.

TV Fanatic: What can you tell us about working with my personal crush, Jessica Stroup?
Haha.  You and I both.  She's wonderful.  Not only a great actress, such a sweetheart.  When we first started, we weren't really fond of each.  With the development of our relationship on camera, there's been a development of friendship off camera.  That progression has happened very organically on and off camera.

TV Fanatic: Let's talk about relationship with Silver, what can we see going forward?
With the introduction of my father, there's a lot a added tension and stress.   But we're working on it.

TV Fanatic: Can you reveal any spoilers about the season finale?
I'm sure you've heard from the other cast members, it's going to be shocking.  I don't want to give to much away.  There's this question of who hit the homeless guy and how it all went down.  there's gonna be answers, but it's going to be shocking. Anna Lynne is the main storyline with a shocking twist.  Definitely gonna be worth tuning into.
Eric Hochberger is the programmer of TV Fanatic, so please forgive his mediocre writing. His programming is far better. Follow him on Twitter and/or email him. Just don't request threaded comments. They're coming.