It would be fair to call "Physical Education" the most absurd episode of Community yet.
In some cases that worked, in others not so much. But points to the sitcom for simply going all out, highlighted by a naked Jeff playing pool and Britta using a pronounciation for "bagel" that still has this native New Yorker squirming.
We found Abed's storyline a lot funnier than Jeff's, which is both good and bad for the show. It's good that supporting characters have established themselves as funny and strong enough to carry an episode; but could be considered bad that the star is often shoved into the background as a result.
What started out as a showcase for Joel McHale has become an ensemble comedy, but we're not complaining one bit. Not when Community has created Abed, a seemingly ironic, one-note individual that - as "Physical Education" proved - actually has more heart than anyone on the show.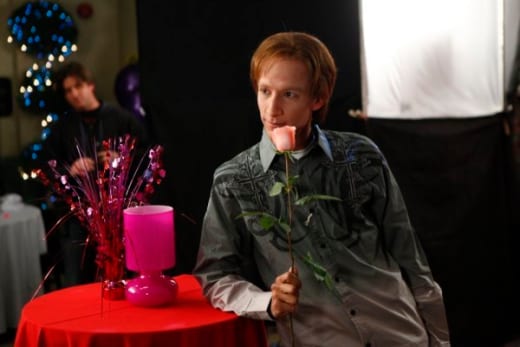 Among the lines and situations we loved:
Abed's impressions of Don Draper, a hilarious nod to Alison Brie's recurring role on Mad Men.
Pierce thinking Calvin from the comics was a reference to Calvin Coolidge.
Troy and Shirley needing all cultural references translated into their African-American equivalents.
Jeff and the teacher's Iceman/Maverick-like showing of respect after their pool game.
Troy and Abed's post-episode skit. You really need to stick around for this if you often miss them.
The rest of our favorite Community Quotes after the jump.
Shirley: Oh it's a drawing of Abed with hearts all around it. Strictly speaking, the bible condemns this level of friendship. | permalink
Annie: It's just like the Notebook, only instead of Alzheimer's, Abed has ... someone who likes him. | permalink
Pierce: I can't think of anything more frightening than a half-Polish, half-Arab virgin in his thirties. One way or another, that ends with an explosion. | permalink
Troy: You should be like Calvin. His best friend was a tiger, he always went on dope adventures, and if anything stood in his way, he just peed on it.
Pierce: Calvin Coolidge? | permalink
Matt Richenthal is the Editor in Chief of TV Fanatic. Follow him on Twitter and on Google+.