Last night's Gossip Girl didn't have many shocking moments, but there were plenty of racy scenes, quality character moments and major story lines beginning to slowly build up.
While much of its buzz stems from its "OMG" factor, Gossip Girl has become, at its heart, a character-driven show, and "The Lady Vanished" proved why it's one of our favorites.
Who would have thought Chair would be the most adult couple on the show, including the actual adults? Season One, this is not ... and we're loving every second of them.
Chuck and Blair were the focal point of the episode, with a scandalous Jenny side plot and Dan and Vanessa doing their crazy thing somewhere else. But first ... Serenate.
The episode begins with Serena, Nate, whipped cream and strawberries, and no pants. Wow. Not one to be outdone, Blair moans loudly from upstairs to get their attention.
All in the first five minutes! Parents, hide your children!
Turns out Chuck is not there and Blair's show is a one-woman job, however. He's up to something B doesn't know about. We do. He's been stalking Elizabeth Fisher, his possible mom.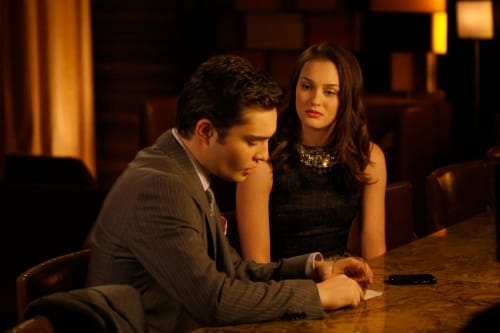 CHAIR FTW: Chuck and Blair stole the show again last night.
Ed Westwick killed last night, as Chuck's wide range of complicated, deep-seeded emotions were evident throughout. Did he want to get to know her? Even he wasn't sure.
When he finally confirmed that she was indeed his mom (does that make her the Mother Chucker?), he decided he'd rather just get a drink than catch up. Then S intervened.
Somehow making the drama with Chuck about herself, and eventually realizing her own father doesn't want to be found, Serena set up a meeting with Chuck and his mom.
Again, Chuck is standoffish and offers her a "test," i.e. a huge check to take a hike. He later said he wished she turned it down. What he really wants is to get to know her.
Which he does. She may well have ulterior motives we aren't clear on yet, and may not even be his mother. But last night ended on a definitively positive note for Chuck Bass.
Behind it all was the amazing Blair, going to great lengths to make Chuck happy. Schemes have their time and place, but our girl is as honest, loving and sincere as it gets.
Leighton Meester has done a terrific job portraying the evolution of this character. There are so many layers to Ms. Waldorf, but she handles them in perfectly nuanced fashion.
At the end of the episode, right before getting to know Elizabeth, Chuck actually smiles. Other couples on Gossip Girl could take a cue from Chair. Speaking of those couples ...
People with the last name Humphrey certainly aren't having an easy time. Dan and Vanessa are totally awkward, and their story line was certainly the weakest of the evening.
At the same time, we can kind of see it. At least we'll give it a couple of weeks. When they both pretended to have dates to the South Beach party, that was kinda sorta cute.
While they are obviously conflicted, Vanessa and Dan ultimately decide to say f--k it, we're ditching random girl Melissa and that douche Paul Hoffman and just going for it.
What do you think of Danessa as a couple? It sort of works, right?
DANESSA: It's officially on. For better or worse.
Jenny, meanwhile, is about to make some deliveries with bad news dealer Damien, when they get busted by Lily. When Rufus comes over to scold Jenny, she is not pleased.
Upset that Damien thinks of her as just a friend (or so she says) and that Rufus and Lily are attempting to assert themselves (the nerve), she dumps his pills on the floor.
That's one bold way to make a point. Damien then lies, kind of, to get Jenny off the hook, saying the pills are his dad's, and that he stole them in haste to keep him safe.
Rufus still attempts to ground Jenny by taking her back to Brooklyn, but she runs off with Damien before he can! Man, this story line is shaping up to be fantastically dark.
Seriously, did she effectively just run away from home? Amazing. We also liked how Damien's confession actually made him seem human and maybe a little sympathetic.
It gave him a new dimension, and we can't wait to see what twisted direction the writers are taking developments with J ... especially given that sexy promo for next week.
The Jenny drama also spiced up the Rufus-Lily story a bit. There's more to come, too, thanks to Vanya returning the scarf Rufus left in his mistress' room! Smooth, dude.
What were your favorite scenes/parts of last night's Gossip Girl? What did you think of "The Lady Vanished" overall? Leave a comment and vote below!
Steve Marsi is the Managing Editor of TV Fanatic. Follow him on Google+ or email him here.