What did Chuck Bass do?
We already wonderws that after the first promo for next week's episode, "Inglorious Bassterds," but now fashion designer Matthew Williamson has us even more intrigued.
That's because his storefront in New York's Meatpacking District is spreading Gossip Girl gossip with a window display of Blair, Chuck, and some mysterious, suited men ...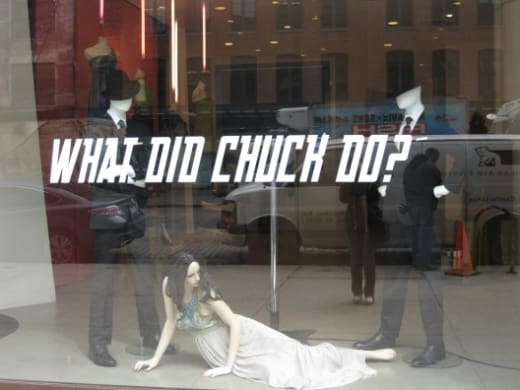 Gossip Girl spoilers and fashion clash in a striking display.
The display itself is bleak, considering the fallen Blair and a heart-wrenched Chuck. There are three suited male mannequins adorned with fedoras and a fallen brunette mannequin in the Matthew Williamson dress Blair will be wearing in a future episode.
Perhaps the most upsetting part? The white blocked words pasted on the window which read "What did Chuck do?" Chuck! What did you do, indeed? You're killing us, man!
The other window has a lone male mannequin, in a suit with a Chuck-esque tie, grasping onto Blair's dress with the words "Tune In" plastered across the window.
We will
.
The most important part of the display, however, is the TV screen broadcasting a future Gossip Girl scene. The entire sequence is in black and white. Blair is lying in bed.
She gasps at a fedora-wearing man peering through her window. Suddenly, a suit army storms in and takes Blair. The next shot is Chuck running through the door. He falls to the ground and grabs onto the dress for what looks like dear life, sobbing.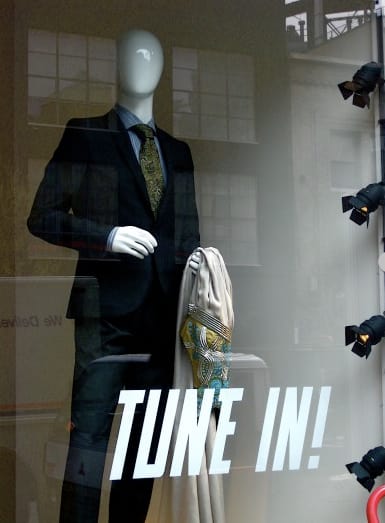 You better believe we will!
This scene (thanks to Sarah Lim for tipping us off!) has been a big hit for Williamson, and will surely get people talking. What do you think happens in the scene in question?!
Share your thoughts on this uniquely intriguing Gossip Girl spoiler below ...
Steve Marsi is the Managing Editor of TV Fanatic. Follow him on Google+ or email him here.