Greek Review: "Camp Buy Me Love"
LL at .
This latest episode of Greek is called, "Camp Buy Me Love." As always, the title is an adorable pun on the stories two themes:
Cappie and Casey go  on a spontaneous camping trip with Cappie's parents
'80s romantic comedies!
Check out all the details from the episode in our Greek recap and let us know what you thought about tonight's episode!
Rusty Cartwright had a difficult, but delightful choice to make: between Katherine and Dana. He wavered, but ultimately he decided Dana was the right match for him.
Do you think he made the right choice?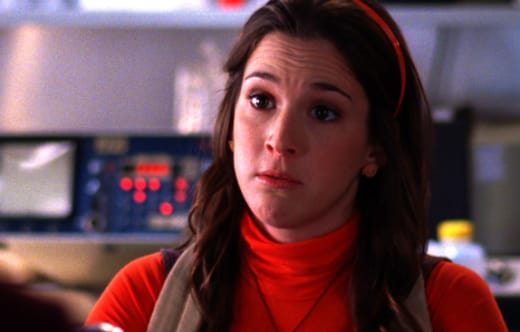 The '80s movie theme of tonight's episode was fantastic! (As is most anything related to the 80s) - but do current college students really glorify the 80s?
When I announced to my younger officemates that Corey Haim had died, I was met with blank stares: Corey who? Do kids these days really have the entire Brat Pack film collection in their romantic-ploy repertoire, as Ashleigh suggests?
If not, then they should consider it, as we learned from this episode, that everything we've ever needed to know about romance can be learned from a John Hughes movie. And if it worked for Rusty Cartwright, it can work for you too!
We're still plagued by this tension between Cappie and Casey about their dubious future together.  But we learned a lot about Cappie in this episode, courtesy of his hippy parents, April and Tobias. Cappie's never really had a chance to establish roots - other than at Kappa Tau - since his parents were always moving him around. It's no wonder he's scared to graduate!
So who's right, Casey or Cappie? Is life about the end result or is about the journey itself? Cappie wants Casey to live in the here and now and to just see what happens next, chapter by chapter. But Casey wants to know how the story ends before she even reads the book - doesn't that take the fun out of everything? For Casey, the uncertainty of their future is a very certain anxiety that is presently annoying, to her and to everyone else!

Here are some of our favorite quotes from this episode: 
Ashleigh: Hey, 80s rom-com dating is never easy. You might have to give your underwear to a nerd, you might have to dress up as a guy then fall for your best guy friend who thinks that you're a guy, and this was all before people were allowed to be gay in movies, and then on top of it all, your parents forget your birthday! | permalink
Evan: Schooled in manly dignity by a guy in purple leather. | permalink
April: Some love stories are short stories, but they are love stories all the same. | permalink