How to Make It in America Review: "Unhappy Birthday"
at . Comments
How to Make It in America had some sweet music last night to kick off Rachel's birthday. Birthday Sex happens to be one of my favorite songs and the throwback to Uptown Baby by Deja Vu? Great music! We were grooving in our seats the entire episode.
"Unhappy Birthday" warmed us up a bit to Rachel's character - just a bit - although we still aren't a huge fan of her, but her boyfriend is super cute!
We liked the speech Daren gave about delaying his flight purposely so he could celebrate her birthday. And then taking it back and saying he was only kidding - awesome! It shows that Daren is not only a cute face, but has a funny personality as well. His speech about things happening for a reason was also very charming. We can all relate to that.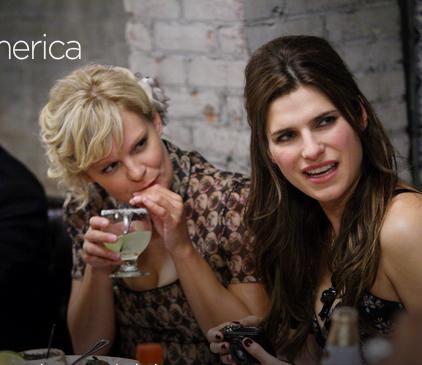 Eddie is highlarious! How awesome (and strange) is it to have your boss roll a couple joints for your birthday party? We can't wait to see what crazy antics she will be up to this season. She's like the Karen Walker to Grace Adler only a pot head instead of the alcoholic - this is just too funny!
David finally got to go hang it with the boys in the club. It amazes me how someone with so much money would have such a hard time getting in anywhere. Cash is king, so why wouldn't he be able to get into Avenue without Ben's help?
In any case, we really like David's character. He's a bit awkwardly dorky, yet extremely wealthy, and unable to really process how much things have changed for him. Hopefully, the money won't go to his head and make him turn into a jacka$$.
Rene was surprisingly absent from this week's episode. We wonder what he is up to with this energy drink? So far, his character is all business and it would be nice to see him kick it in the clubs as well.
It was nice to see the boys take a beak from making their dreams come true. But, we have to admit, their struggle to make It really is the best plot-line of the show.
Until next week, we leave you with a few of our favorite How to Make It in America quotes after the jump!
Daren: Here's to things happening for a reason. | permalink
Cam: Man I know you better than you know you. | permalink
Ben: It's still early David - relax. | permalink
Eddie: I'm gonna get you so high before dinner you are not going to tell them apart. | permalink
Eddie: You're getting closer to that age you will be when you die.
Rachel: Jesus Eddie. | permalink