If you enjoy watching brutal fight scenes, then this week's episode was for you!  On Corner Man, Christopher Chance is hired to protect a prizefighter from the evil crutches of an intimidating businessman.

The brawls featured on the episode were right on target, making Chance again look like an undefeatable man.  But how can he really always win?  One day we predict an end to Christopher Chance's winning streak. But then, it would literally mean an end to the entire show's premise.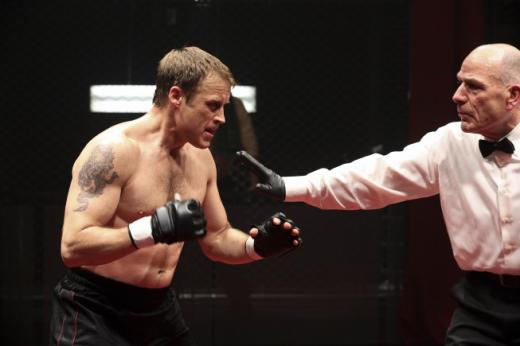 Chance went up against three prizefighters, in a professional tournament… and is still able to make it out unscathed!  Soon Christopher Chance can to glue a large "S' to his chest.  He is the new and improved Superman.

With that being said…we enjoyed watching the emotional bond between Winston and Chance.  We now see why Winston risks his life every week to help out his buddy.  These two really care about each other, they love each other!
And what ever happened to the two women on last week's episode, Baptiste,  Layla and Emma?  We expected Layla to be a more permanent addition to the team.  Will she ever return?  
There was also some mention of Chance's previous boss, and the fear he has of being found.  What could possibly transpire that our Superman could not be able to get out of?  This man must have a lot of control over Chance to still be able to evoke such fear in him.    

Honestly, this show might be a touch on the unbelievable side… but it is refreshing to always see the good guy win.  That is why this show has become such a huge success in such a short amount of time.  People ultimately enjoy seeing good prevail over evil, packed in an hour full of action and adventure!
Christopher Chance really has a way with every woman featured on this show.  It is good to see he finally was able to score, after all the work he did to save the day!  At the end of the episode, Chance leaves with the beautiful Asian babe. 
Until next week, here are a few of our favorite
Human Target quotes
:
Winston: How the hell you get hit by accident in a staged fight?
Chance: I don't know, zigged when I should have zagged. It happens. | permalink
Prentiss: There's nothing more exciting than an unknown who makes a splash.
Chance: That's me, all about the splashing. | permalink
Chance: I was only half listening on the plane. What? It's better than not listening at all. | permalink
Chance: Fan of the fights?
Eva: Just here for the party. | permalink
Dunn: Kendrick Tailor is a wrecking machine. You guys are picking a fight with him and I'm an idiot?
Winston: Watch this. | permalink