Is 90210 Pushing the Adrianna/Gia Relationship Too Hard?
Matt Richenthal at .
As any loyal 90210 fan knows by now, Adrianna and Gia will embark on a relationship when this series returns next week.
Producer Rebecca Sinclair swears this is NOT merely a publicity move because it "isn't a fling. We're coming at this from a genuine place and not going, 'Let's do a titillating story that will grab some promotion.' This is a real aspect of teenager life that's interesting."
We have our doubts.
Any time a series takes a straight character, who has never shown any inclination toward the same sex, and has her make out with a girl, it screams RATINGS STUNT (recent examples include Claire on Heroes, and Katherine on Desperate Housewives, two shows that were struggling mightily at the time of these storylines).
But we're willing to at least watch this 90210 relationship before judging it, especially considering the show has already been picked up for a third season. Seemingly, it doesn't need major help in the ratings department.
HOWEVER, we question The CW's latest promotional poster for 90210, which places a major emphases in the upcoming girl-on-girl hook-up. Check it out: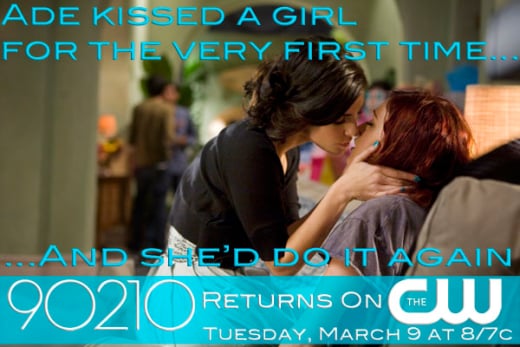 How can Sinclair claim this relationship is just another storyline, yet push it in such a gratuitous manner?
Shouldn't the series be hyping its return with ads about Liam and Naomi, or Annie and Jasper, long-running developments whose resolution ought to be the main reason any loyal fan is excited for new episodes?
You tell us. Sound off in our 90210 forum and below: What do you make of the Adrianna/Gia romance?
Matt Richenthal is the Editor in Chief of TV Fanatic. Follow him on Twitter and on Google+.