Ugly Betty Review: "Fire and Nice"
at .
We've waited a month to find out who started the Suarez house fire and we just have one thing to say about that - it was well worth it!
"Fire and Nice" had plenty of interesting story lines to follow. Nothing was boring about Ugly Betty last night.
Who knew that Justin isn't gay?
Marc and probably all of America were waiting to hear that Justin had a crush on a boy - and instead it was someone named Lily? What an interesting twist that was! There's no way a boy is name Lily - what do you guys think? Maybe Justin is still in the closet? Perhaps he is a very feminine straight boy?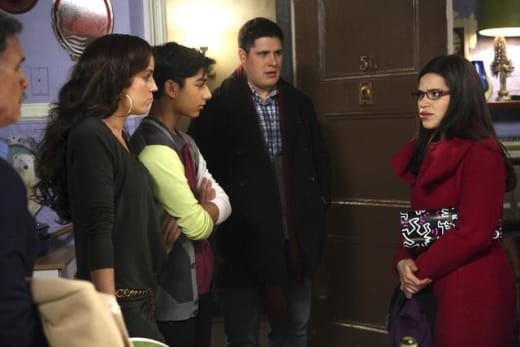 How great was Wanda from the block?! And that had to be the most awkward double date ever! It was great to see Betty once again in comparison to Wilhelmina. She only went on the date with the fireman to get her report pushed to the front. Betty did gain a level of Wilhelmina's respect by pushing her to invite Justin to meet Lady Gaga. Personally, we like to see a meaner side to Betty. 
Claire finally let Daniel in on Tyler being her other son. Poor Daniel, he can't get a break! As much as we love Amanda, we don't love them together. It just feels off to us. Plus, what does she think she is doing messing around with Tyler? What a sticky love triangle she has created. (Also, we secretly want Betty to be with Daniel)
We finally got to meet Bobby's parents and the writers did an outstanding job in casting. How awesome were all the mob innuendos thrown out during dinner?
We had our money on Justin being the fire starter - but who knew it would be Betty all along? Goes to show all you ladies out there - remember to unplug your curling irons and flat irons when you are done using it!
We hardly ever give out 5 out of 5 stars - but, this week Bobby topped the cake with his smooth moves. He really had us holding back tears with that proposal! Awe! What a great way to end the night.
We will be here until the end giving our reviews of this special show. What did you guys think of all the action this week?
Until next week, we leave you with a few of our favorite Ugly Betty quotes:
Wilhelmina: Playing the Gaga card is the first time I've ever respected you. | permalink
Marc: And you thought you couldn't be nice.
Wilhelmina: Get Kathy back in here, I need to kick someone. | permalink
Marc: Haaa you're mean - I love it! | permalink
Wilhelmina: It's not work, it's like a family. | permalink