While fans couldn't have been more excited to welcome back Glee this week, they were quickly crushed by a couple dating developments: So long, Wemma. Take a hike, Rinn.
It didn't take long for the two couples that viewers were rooting for throughout the season's first 13 episodes to break up, which would be annoying if this were any other show.
But "Hell-O" was filled with so many great musical numbers and one-liners that we can easily look past these storyline frustrations and focus on the positive. There was certainly a lot to choose from in that regard...
Welcome back, Sue! It took about 45 seconds to us to learn that Sue had been re-instated. The lesson, kids? Sexual blackmail is always the way to go. It then took Sue about one minute and 45 seconds to make her first hair joke at Will's expense ("You have enough product in your hair to season a wok."). Sue clearly used her time in Boca to get even funnier and more devious, uttering hilarious lines and coming up with outlandish plots (she actually gathered together a group of frumpy-looking women and dubbed them The Old Maids Club in order to scare Rachel into dating Jesse! Amazing.)
Speaking of Jesse... My wife gasped and grabbed me on the arm when Jonathan Groff made his first appearance. We doubt she was alone in that reaction. The Spring Awakening actor was reunited with his Broadway co-star, Lea Michele, and literally sung her off her feet.
While we would have loved to see Rachel and Finn get an actual chance together, Glee is known to move around its dating pieces (remember those glorious 10 minutes of PuckBerry last year?) - and Rachel and Jesse's relationship sets up a long-running, major obstacle for the group. We love it.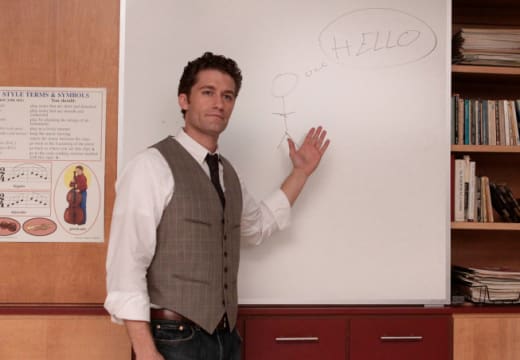 Where there's a Will... there's a way to screw things up with Emma. That poor woman! She opens up to Will about her virginity, only to soon learn that the man of her dreams is far from perfect. It was crushing (and shocking) to watch him make out with Shelby Corcoran, the leader of Vocal Adrenaline. But at least Will put a stop to it before they advanced to any base beyond first.
It's definitely frustrating to watch a relationship we've been yearning for to get extinguished after just one episode, but it's also realistic. Of course it's a bad idea for Will to move on from his divorce immediately, especially when his wife is still stopping by occasionally to pick up her Jerry Bruckheimer DVDs. We still hold out hope for Wemma, though. As Glee has told us before, you don't stop believing.
Coach Tanaka pulled
a Jessica Simpson: he lost his fiancee, gained 40 pounds and stopped showering. We have nothing to add here. Just laughed for close to a minute straight after Finn uttered that line.
More Brittany! The producers promised us more Brittany this spring and they've already delivered. Her double date with Finn was tremendous, as were her deadpanned lines (example: she sometimes forgets her middle name).
On the musical number front, Groff and Michele's duet of a Lionel Richie classic was unique for its slow, simple tone. The opposite was true for Rachel's rendition of "Give You Hell," but this fast-paced number was our favorite of the episode. Especially given the rolling eyes and looks on Will's face throughout.
So... where to various couples stand now? Rachel is secretely dating Jesse. Puck is getting bossed around by Quinn. And Finn is actually the one now chasing Rachel, which resulted in the hour's closing performance, "Hello, Goodbye."
In the end, we feel terrible for Emma, but equally excited that Glee has returned. We're also speechless over Sue's Vogue video. You must watch it now if you somehow missed it. WHAT DID YOU THINK OF THE EPISODE?
We've listed our favorite Glee quotes from it below:
Finn: I want us to be together, a real couple. I even circled some dates on your crazy calendar. | permalink
Terri: Don't bother sleeping with my husband tonight. You're already screwed. | permalink
Sue: You may be two of the stupidest teens I've ever encountered - and that's saying something. I once taught a cheerleading seminar to Sarah Palin. | permalink
Brittany: Did you know that dolphins are just gay sharks? | permalink
Sue: Hey, buddy. Get a haircut? It looks awful. | permalink
Finn: I think I'm dating Rachel. At least she sure thinks I am. | permalink
Sue: You two should be wetting yourselves with shame. | permalink
Matt Richenthal is the Editor in Chief of TV Fanatic. Follow him on Twitter and on Google+.