Naughty, naughty Taub.
Honesty and happiness in relationships were the theme this week on House, as "Open and Shut" dealt with a patient and her open marriage. She was eventually cured, as her illness wasn't really the issue.
Instead, her and her husband's agreement caused the team to wonder if it's really possible to have an open, legitimately happy marriage. Taub referred to it as a "unicorn, a mythical creature." He then went out and asked his wife for the same deal.
It was a nice glimpse into their private lives, as we often hear House make jabs at Taub's expense due to the latter's formerly cheating ways - but we rarely actually see him and his wife interact.
She's pretty, intelligent, clearly in love with Taub. Yet that isn't enough for him. He still wants other women, a fact his wife tries to understand about her husband. We could predict the way this storyline would turn out early on - wife gives permission, wife takes back permission, Taub cheats anyway - but it was still handled nicely by the show.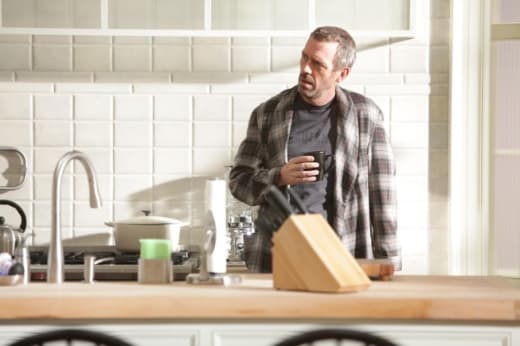 When everything is clicking on House, it forces viewers to look at subjects in unusual ways. That's true for the main character himself, of course, as he'd typically be considering nothing more than a rude ass most of the time. But we know that isn't exactly the case here.
We also know an open marriage is wrong... but why, exactly? Thirteen's point that Taub was gonna cheat anyway, so why not be honest about it, causes one to wonder if there's something to this arrangement.
If my wife is reading this, don't worry dear, I couldn't be more content to be monogamous. But the episode was classic House is turning a seemingly obvious, ethical issue on its head and questioning common assumptions about it.
Similarly, House's intrusion into Wilson and Sam's life was supposedly for their long-term benefits. Again, this is a man that doesn't do anything in a conventional manner.
I do believe that this was an example of House trying to change, in the way that only House can. (Same goes for his espresso machine gift, followed by his hope that Lucas would die or Cuddy would... you know). I also believe that Wilson even bought into this by the end of the episode.
But that simply resulted in Wilson and Sam's relationship growing stronger, which left House feeling more alone than ever. This issue will continue to play out as the season comes to a close, producer Katie Jacobs said.
What did you think of the episode? We've listed our favorite House quotes from it below:
House: I'm gonna check your holes. If there's nothing there, we'll have to get kinky. | permalink
House: If this should somehow lead to Lucas dying, or oral sex, so be it. Namaste. | permalink
Foreman: You're gonna sleep with another woman tonight, and then go home to your wife:
House: Thank God someone's keeping an eye on what's important. | permalink
Taub: I am going out with Mya tonight... with Rachel's permission.
Foreman: Mazel Tov? | permalink
Taub: I'm 5'6" and have a receding hairline. I hate genetics. | permalink
Matt Richenthal is the Editor in Chief of TV Fanatic. Follow him on Twitter and on Google+.