As I watched this week's episode of The Amazing Race, "I Feel Like I'm In, Like, Sicily," the same thought kept popping into my head:
I don't want any of these teams to lose.
Ok, perhaps that's a bit of an exaggeration; I'd be fine with Caite and Brent going home.  They're a tad annoying, not too bright and do not really bring a lot to the table, at least not compared to the other three teams.  However, on the scale of 1) how awful most couples are on the race and 2) how annoying most of the teams that seem to make the finals are, Brent and Caite are angels.
How entertaining is Brent and Caite's competition?  My man-crush on Jet and Cord is well documented, but who's going to argue with the assertion that they are two of the nicest people in the world?  We can say this now with conviction because they've literally traveled the world and we've been able to watch them.  They've certainly pass the "ugly American" test in every country that a number of former teams have failed, badly.  
Dan and Jordan remain the best story on the show.  It has been very warming to watch Jordan fulfilling a life-long dream of running The Amazing Race and his older brother Dan doing everything in his power to help Jordan in that quest.  The brothers have had so many great moments of genuine emotion throughout the show including this week's tear jerking hug from Dan for his struggling brother.  Oh, did I mention that Jordan might be one of the funniest racers ever?  He's certainly been the most quoted racer for our reviews.
After a brutal first three legs in South America, the detectives, Michael and Louie, have really turned up their game since leaving South America and turned into fan favorites.  They managed to paint themselves as the old guard underdogs going up against the younger guns this week, but the reality is they're a strong team with as much of a chance to win this race as any other team.  Jordan may be the most quoted racer, but Michael and Louie had some hilarious comments this week. 
Louie: What kind of detectives are we?  We walked right by the place.
Michael (referring to Jordan at the fashion challenge): Being the gay male that he was, he was in heaven, he loved it.
Michael (after being frustrated by the challenges): Can we get some shooting?  Kick a door in?  Chase a crack head?  Something…
Michael: It's like communicating with Martians.
Watching Dan and Jordan duke it out with Louie and Michael to avoid finishing last this week was hard to swallow.  I've really come to like both teams and didn't want to see either go home.  I'm guessing CBS recognizes this and attempted to REALLY play up the angle that Louie and Michael were going home after struggling at the second Roadblock.  They gave us all of these quotes from Louie about wanting to finish the race, not wanting to go home and then BAM! Phil hits them (and us) with news of a non-elimination leg.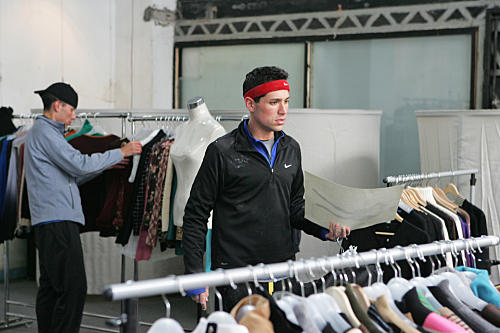 In my opinion, it was a bit too obvious that they were not going home.  Heading into the leg it seemed like it would be the last non-elimination before the final three teams were determined simply because that is the way the show normally does it.  Phil didn't congratulate the first three teams on being one of the three teams racing for a million dollars.  More than anything overplaying the music, the quotes, and the drama made it obvious it was a non-elimination leg.
But, that would be the only complaint I have about the leg.  We got two great challenges along with a fun wrinkle of two roadblocks on one leg of the race for the first time ever (amazing to think that's never been done before).  We were treated to an unnecessary, but fun appearance by the world's smallest man, He Pingping at the first roadblock.  The teams provided plenty of hilarious quotes throughout the episode.  Finally, we got a dramatic finish.  You can't script it better than that.
Certainly next week will narrow the field from four teams to three to race for the one million dollars.  While I don't want to see any of them go home, who do you think it will be?  Here's what else needs to be considered heading into the final elimination.
As the only female left on the show, can Caite compete with the testosterone?
Will Louie and Michael be able to overcome next week's speed bump?
Is Dan and Jordan's assertion that Brent and Caite should have U-turned the cowboys right?
What team is the favorite to win it all?
Where are the teams heading next?