Gossip Girl Review: "Ex-Husbands and Wives"
Steve Marsi at .
A recent Gossip Girl poster teased "The *itch is back."
Last night, following a season of enjoyable, but largely individual story lines, the collaborative, group scheming we grew to love was back in "Ex-Husbands and Wives."
More like: Welcome back, *itches!
With increasingly important stakes, complex plot developments and twisted relationships pulling our characters in different directions, this truly felt like old times again.
For all the flak Season Three has taken, it's building toward a conclusion that may even live up to Josh Schwartz's promise as - dare we say without jinxing it - epic.
It was good to see Dr. van der Woodsen's shady prescription writing and motives, and his dealings with psychiatrist Dr. Holland Kemble (yes, that Holland) exposed.
Even better was that they exposed by the gang, back together again ... although Dan doesn't usually participate, as Nate said in one of our favorite quotes all night.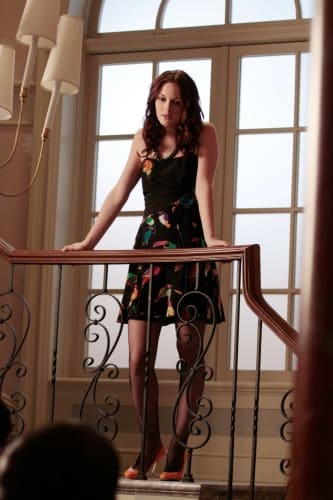 Dates come and go. Gossip Girl schemes are forever.
We began with Blair getting ready for a date, but let's face it, this Cameron guy was no match for the detective work B was about to be enlisted for - on two fronts.
Rufus had grounded Jenny for being a drug dealer (tough sentence), but that's not about to stop her from uncovering the truth about Lily's pills... with Chuck's help.
Meanwhile, Serena calls out Rufus for having an affair, so he calls out Holland in front of the family, only to have her admit the "affair" (a lie) and humiliate Rufus.
Wait, what? Fifteen minutes in and our head was already spinning!
With the VDW family being slowly torn apart on multiple, carefully-orchestrated levels, there's only one woman who can help us, and her name is Blair Waldorf.
After Chuck's personal pharmacist (hilarious) reveals that the pills are basically useless, he and Jenny go to Blair to help track down information about the meds.
Blair thinks Chuck is just trying to mess up her date and rebuffs him, but then Nate and Dan stop by Blair's looking for her help unmasking the neighbor's lie.
She's in, and the Gossip Girl reunion that followed was awesome ...
We didn't see the Holland connection coming, but she's Lily's shrink, and the medication and her lie are very much linked. Blair hatches a scheme to expose this.
Meanwhile, Serena catches Jenny, still on the case herself, searching through her mother's meds, and as they argue, J realizes that she wants out of this family.
Now with her own ulterior motives, she lies to the others about her findings.
Blair, Chuck and Dan readjust their plans (at a black-tie event, natch), and at the gathering, Blair and Rufus force Holland to admit that she wrote prescriptions.
Elsewhere, Jenny tips off Will that he's about to be outed and straight up admits she wants to split the families apart. The doctor leaves ... with Lily and Serena.
He plans to take them all to Palm Beach. But will he get away?
Dan calls Serena to tip her off, while Rufus confronts Will in person. He does the only logical thing: Says he's getting the files to prove his innocence, then bolts!
That doesn't make you look guilty at all, Will. Just saying.
Jenny confesses that she gave up the scheme, further estranging herself from her family, nuclear and extended. Where will Little J end up this time next week?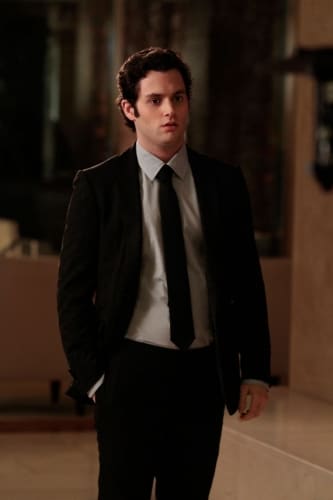 Even Dan got in on the action last night!
With the cops closing in, Serena meets with William in secret and says he did cure Lily the first time, then fell in love with her and realized he wanted her back.
He wanted them all back. Will knowing this help Serena realize she is loved, albeit by a shady individual? At the end, we see Serena and Dan cuddling. Uhhh ....
The hint at a Derena reunion might have been more noteworthy had we not also seen Jenny packing her bags and crashing at Nate's apartment. This is trouble.
This is big trouble.
Finally, Chuck tells Blair to meet him at the top of the Empire State Building ... if she doesn't come he's closing his heart to her forever. What will she choose?!
All in all, that was a great episode and a solid setup for next week's season-ending "Last Tango, Then Paris." All the layers were weaved together so intricately.
From Serena's dubious loyalty to her dad to Dan's reemergence, Jenny's out of control machinations and Chair's connection even when they're apart, this had it all.
We've said our piece, now let's hear from you. What was your favorite part? How will thinks play out on the Gossip Girl season finale? Sound off!
"Ex-Husbands and Wives" was ...
Steve Marsi is the Managing Editor of TV Fanatic. Follow him on Google+ or email him here.