Best. Casting. Ever.
Katie Cassidy is relocating from Melrose Place to the Upper East Side to play a new love interest for Nate on the upcoming fourth season of Gossip Girl, according to EW.
We're psyched about this, and not only for her obvious appeal to a site run by straight guys. Katie was the best thing about Melrose, and seems tailor made for GG, too.
The CW declined to renew Melrose Place after its ratings disappointed in its first season, but is smart to keep her in the CW fold with a multi-episode arc on Gossip Girl.
She'll play a student at Columbia and a love interest for Nate, who supposedly goes to college there. Oh, and she "will make trouble" for several Upper East Siders.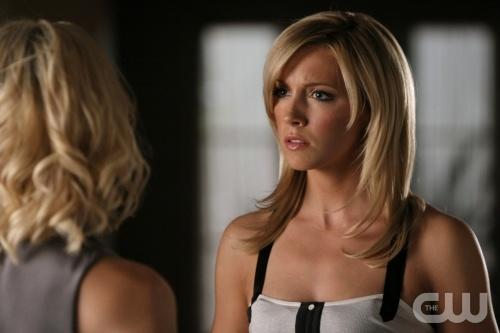 Katie Cassidy as Ella Sims on Melrose Place.
A network source adds: "She is not what she appears." But who is, right?
Especially on the UES, a little deception is a guarantee. Or a lot, if you're Georgina. Cassidy's character will first air in the Season Four premiere, slated for mid-September.
Coincidentally, Cassidy is currently in Paris, where at least part of the premiere takes place, shooting the teen comedy Monte Carlo alongside Leighton Meester (Blair).
What do you think about Katie's casting on Gossip Girl? What sort of trouble will she cause? What would you like to see from her character? Discuss!
Steve Marsi is the Managing Editor of TV Fanatic. Follow him on Google+ or email him here.